Unity and understanding, both in families and societies, are created through traditions. Schools are both large families and small societies. School traditions bring together unique students, staff, and families to create a strong and cohesive community. Traditions remind us of the history that defines our past, molds who we are today and shapes who we are likely to become.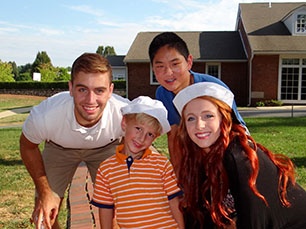 How do traditions benefit a school?
Create familiarity, a sense of well-being and belonging
Reinforce the values being instilled in students
Prioritize and recognize the things that are most important in life by celebrating specific people and events
Foster stability
Produce lasting memories
Allow students to move forward.
These rituals become constants in an ever-changing world. When visiting a school, a great deal can be learned about the values of the institution by understanding the events that are celebrated and how they are celebrated.
Graduation is an observance synonymous with education. It is a time where the value of educational achievement is celebrated by families, faculty, and peers.
The presentation of specific awards recognizes the values that are important to the school, such as citizenship, the arts, athletics and academic accomplishments.
Graduates find comfort in joining others to move to the next stage of their lives.
Younger students in attendance observe positive role models.
Yearbooks, parties, and photos create memories that will connect the past with the future.
At Sanford School, traditions pull parents, students, and faculty together, creating a sense of belonging to a larger community. Traditions are as simple as
A water ice party where young children make new school friendships

Morning meetings, where student achievements are recognized, school priorities are announced and changes are acknowledged for all to know

Family picnics where new families are welcomed into the community
Alumni sporting events and performing arts cabarets that create connections between past and current students.
It is important that parents and educators find every occasion possible to reinforce the values that are important to the school. In her book Familiar Ground: Traditions that Build School Community, Libby Woodfin states "Some traditions are once a year events; some happen every week or every day. They give us ways to greet each other, to learn about each other, to sing and celebrate and say goodbye. These events mark our comings and our goings and affirm our common interests in the time we spend together."
"Without our traditions, our lives would be as shaky as a …fiddler on a roof."

-Tevye, Fiddler on the Roof
Janice Payne is the Director of Development at Sanford School in Hockessin, Delaware.