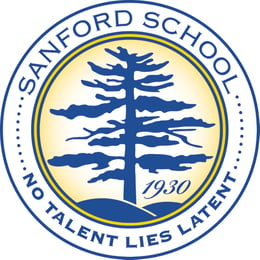 As with many families, the decision to send our children to a private school required a lot of thought. We both attended public schools, so had no experience with the world of private schools. And, yes, the financial commitment was a challenge. But we firmly believe that the decision to send our sons to Sanford School played an important role in their success in college, their careers, and their overall happiness.
Among the many benefits of an independent school such as Sanford, the small class sizes, emphasis on individual attention, and excellence of the teachers stand out.
We offer two stories that illustrate why we believe this:
Although the early grades seem a long way from the rigors of SAT's and college applications, they set the tone for rest of the school years. Our sons, Michael and Brian, often found it helpful to get up out of their classroom chairs to think. One day we dropped by Michael's first-grade class and watched as he recited his spelling words while walking near the teacher. The small class size combined with the excellence, creativity, and yes, patience, of the teacher, provided the flexibility to accept this learning style. Since both of our sons "think walk" to this day, we are grateful they spent those early years in a school that could embrace rather than stifle their learning styles.
At Sanford, the opportunities for new experiences are many and accessible to all. One spring day at lunch, a group of upper school students staged "Shakespeare in the Quad." Brian, who had up till then never shown an interest in the theater, was cast as Demetrius from Titus Andronicus. As his character died a gruesome death—complete with lots of stage blood—the person next to us said, "Wait, is that Brian? But I thought he was a shy and quiet math guy!" His stint as a thespian is just one example of the many times Brian was encouraged to stretch his boundaries. Today his interests are varied, and he has the confidence to explore new opportunities.
The childhood years go by fast and then, snap, the kids are off and on their own. Give them the excellent educational experience available at a school such as Sanford today, and they will enjoy the benefits for the rest of their lives.
Ken and Kathy Nachbar are parents of Michael, Sanford '05 and Tufts University '09; and Brian, Sanford '08 and Dartmouth University '12. In addition, Kathy is a current, and Ken a former, member of the Sanford Board of Trustees.