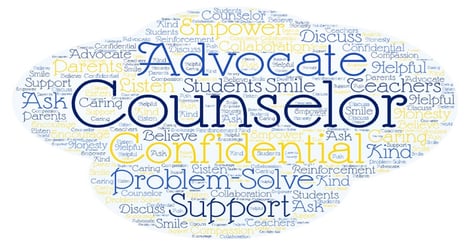 As a parent, your idea of what a school counselor does may be very different from what your child experiences at school. Today, school counselors are knowledgeable professionals who focus on prevention and wellness. They design a counseling program that serves all students' academic, emotional, and social needs. Find out how counselors are an essential part of your child's education.
What Do School Counselors Do?
On a typical day, you might find a counselor meeting one-on-one with a student, scribbling in a notepad while on a phone call with a psychologist, preparing a lesson plan for an upcoming advisory period, discussing a student's academic growth with a teacher, or revising an accommodation plan to address learning needs… and that's all before 10 AM. Along with their wide array of responsibilities, counselors also spend a fair amount of time consulting and collaborating with parents.
How Do School Counselors Help Parents?
Counselors reach out to families when concerns arise, and parents should feel free to contact school counselors at any time about a variety of issues including:
Academic underachievement

Challenges with transitions

Family crisis situations

Emotional, medical, or behavioral health concerns

Referrals for academic support, tutors, or testing

Therapeutic support, including physical therapy, speech therapy, occupational therapy, and mental health counseling

Resources for psycho-educational evaluations and assessments
Throughout these conversations, counselors maintain confidentiality and discretion to best support the family and student. Counselors often collaborate with teachers and administrators when needed and appropriate.
Connect with your School counselor
If you want to connect with your school counselor or if one of the topics listed above resonates with something going on in your child's life, you are encouraged to reach out to your child's counselor to set up a time to meet or chat on the phone. Counselors can be a valuable resource to families and are more than happy to partner with you!
School Counselors Care
School counselors care about the whole student and strive to support their emotional, mental, social, and physical health. Above all, we want our students to find balance. With today's current climate of distance learning, we know that at-home experiences vary greatly. As schools maintain challenging academic programming, a school counselor's priority is to support the overall wellness and mental health of the students in their care. We know parents are working hard to support their children at home. Use tips in this article to help your child. Ask your teens how (and if!) you can be a support to them (the mom in this article tried it); you may be surprised by their answers. If you have a few minutes, both articles are interesting reads about how the current crisis affects children and ways you can best support your kids.
At Sanford, we have a school counselor in the elementary, middle, and high school levels. Our school counseling program focuses on social-emotional learning as well as the health and wellness of our students. Sanford provides a supportive and nurturing community for students to succeed.
---
Courtney Gregor is the Middle School counselor & learning services coordinator. She received her bachelor's degree in Psychology from Franklin and Marshall College and a master's degree in School and Mental Health Counseling from the University of Pennsylvania. She also has a National Counselors Certification. In addition to serving students as a counselor, Courtney is the head swim coach at Sanford.
Skye Rashkind is the Lower School counselor & learning services coordinator. Skye has been an educator for 25 years in a variety of roles and school communities. She has taught at the elementary school level, has been a museum educator, an admissions counselor, and a tutor. Skye holds a B.A. in Psychology from Dickinson College, an M.A.T. in Elementary Education from Brown University, and an M.Ed. in School Counseling from Wilmington University.
Sarah Satinsky is the Upper School counselor & learning services coordinator. Sarah is a Licensed Professional Counselor of Mental Health (LPCMH) in Delaware and was in private practice in Texas before moving into the school counseling world. She earned her bachelor's degree from The University of Texas at Austin and received her master's degree from Southern Methodist University.
---