T
here are several ways to make a private school education an affordable option.
One way is through need-based financial aid.
Prospective families are often surprised to learn that many higher-earning private school families receive some form of tuition assistance simply because the tuition costs are so high. For many (or most) families, it is a true sacrifice to send a child to private school.
A second option to help make tuition more affordable is through merit scholarships.
These scholarships do not take financial need into account. They simply allow your child to shine. Private schools approach merit scholarship awards in a variety of ways. Some schools will base decisions on standardized admission test scores. Others may look at a child's academic success in the school they currently attend. Still, others may choose to look at the bigger picture. Luckily, we understand this and want to help.

Why choose a PRIVATE SCHOOL?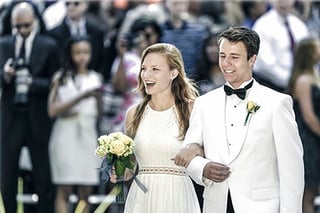 Seemingly endless and individualized opportunities in arts, athletics, club activities, and leadership

Exciting and engaging academic programs

Small class sizes of motivated students

Teachers who love their work and care deeply about each student

State-of-the-art facilities on beautiful campuses.
While many children would thrive in an environment like this, often the high tuition cost is a significant obstacle for families—how can we pay for private school before our child even goes to college?
At Sanford, our approach to education considers the whole child— their success in the classroom as well as their character. We believe teaching kids to live humanely in our community and the greater world is just as important as what they learn academically. Our merit scholarship programs reflect this value by looking closely at each applicant's academic success as well as giving them the opportunity to share their thoughts and ideas in writing and a face-to-face conversation on leadership, moments they are proud of, and what they hope to accomplish as a Sanford student.
Where your child attends school is a big decision. Finding the right fit is the first priority to give your child every opportunity to be successful and find their own path. When considering schools, do not let the tuition deter you from even looking at the school. There are ways the school can and will help you make a private education an affordable opportunity for your family.
Jaime Morgan is the Director of Admission and Financial Aid at Sanford School, a PreK–Grade 12 College Preparatory School located in Hockessin, Delaware.