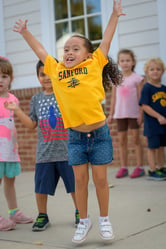 Many schools take the time to highlight the amount of diversity on their campus, and with good cause: time and again research shows that all students benefit when the student body is diverse. Below are four reasons that it's worth your while to take notice when schools affirm that diversity matters.
Reason 1: Working with people who are different than you builds problem-solving and critical thinking skills.

It's easy to have a conversation if everyone agrees with you, but when classrooms include students from many different backgrounds and lifestyles then all of a sudden discussions get more interesting. Different people think differently and it takes significant mental work for students to listen and respond to those whose experiences aren't the same as theirs. Doing these kinds of cognitive gymnastics—forcing themselves to consider new ideas and understand unique perspectives—means that students have more opportunities for intellectual growth.
Reason 2: Diverse classrooms can teach students how to engage in productive dialogue even when there is a difference of opinion.
Remember those conversations and discussions we mentioned in Reason #1? Well, a productive exchange of ideas can easily turn into an angry shouting match unless students practice skills such as listening actively, responding thoughtfully, and expressing disagreement respectfully. Diverse classrooms provide the perfect opportunity for teachers to guide students in developing the skills to debate ideas without demeaning individuals. And being able to engage in positive discourse is a skill that students will use long after they have left the classroom setting. Students of today will grow into the voters of tomorrow, and interacting with diverse groups of people prepares students for future civic engagement. Our democracy is built on multiple perspectives chiming in with different ideas, and the people who direct our country need to be able to consider all viewpoints and respond with civility.
At Sanford the lower, middle, and upper schools each have an Honor Code that guides the actions of students and staff members. While the language gets more detailed as children grow up and move through the different divisions, one word that appears in all three codes is respect. A cornerstone of Sanford's culture is the belief that everyone—even people who are different than you are—has a right to be treated with courtesy and dignity.
Reason 3: Interacting with a variety of different people encourages empathy, increases understanding of others, and contributes to a positive school culture.
The environment where learning occurs can be just as important as the learning itself, so it is critical that schools craft a culture where everyone feels welcome and supported. You build that kind of community by giving people opportunities to both share their own experiences and learn about the experiences of others. This idea comes to reality in many ways across Sanford's three divisions. For example:
In Lower School each classroom has a daily Morning Meeting during which students are invited to tell stories about their lives or bring in items that are important to them and their families.
Before the start of each school year Middle School students are asked to complete summer reading assignments. While all students must be prepared to reflect on and discuss what they read, each individual can decide what book they want to read. This freedom of choice allows students to start off the year by showcasing the diversity of their literary interests.
Student organizations are an important part of the Upper School community, and clubs like Diversity Alliance, Feminist Club, Gay and Straight Alliance, and Sanford International Student Association (SISA) give students the space to connect during meetings and to chance to organize events that allow them to share their club's message with the whole division.
When students create meaningful relationships and true friendships with people who differ from them it teaches students to care about the thoughts and feelings of others. It can be difficult to explicitly teach abstract concepts like empathy and compassion, but when students exist in diverse environments the day is full of real moments that call on students to actually practice these character traits. Stan Waterman, Sanford's Upper School Dean, put it this way, "We do diversity well because we don't just talk about it, we live it."
Reason 4: Diverse schools prepare students to live in a global society.
Our world is made up of people from a wide range of backgrounds and experiences, and technology makes it easier than ever to connect with the global community. Diverse schools prepare students to live in a world that is populated by many kinds of people. As they move through college and into the workforce, students will continually be confronted with people who differ from themselves. Acknowledging that the diversity of the world is a reality and equipping students to move successfully within that world is a critical responsibility of schools today.
Benefits of Diversity
The final sentence of Sanford's Statement of Diversity reads, "Sanford values diversity at our core, including, but not limited to: culture, ethnicity, race, spirituality, gender identity, sexual orientation, learning styles, socio-economic status, and interests." This statement, which lists just a few of the categories that help define our identities, is a reminder of the complexity of each individual. When a school embraces diversity, students and staff are given the opportunity to recognize that complexity and take advantage of the benefits that diversity can bring to a community. Learning in a diverse environment strengthens students' ability to think critically, engage in meaningful conversations, empathize with those around them, and prepare themselves for life in a multifaceted world. When schools acknowledge the value of diversity, students from all backgrounds reap the rewards.
---
Tanya Graham is the former Assistant Director of Admission at Sanford School, a preschool–Grade 12 College Preparatory School in Hockessin, Delaware.
---