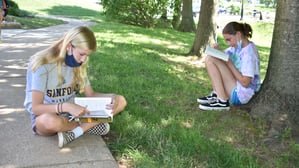 Now that it is summer, It is time to start thinking about your child's summer reading. Some schools require your child to read. It can be as simple as reading a book of choice, picking from a selection of books, or specific books. Ensure you check with your child's school to make sure you have all of the requirements for their summer reading. Once you find out, getting them to read may be challenging. Read these tips to encourage your child to start reading.
#1: Visit a bookstore or your local library
If you haven't already gotten the book your child needs, check with your school to see if you will need to purchase it. If so, go to your local bookstore so that your child can browse the books to find the right one. If not, visit your local library to see if you can borrow the book and save some money. Most schools and libraries provide reading lists by genre, recommended age, and reading level. This is a great way to find a book of choice.
#2: Find the Audiobook version
Audiobooks are an easy way for your child to follow along as the book is read. You can even listen to them while in the car or doing chores around the house. You can purchase audiobooks through Audible, Apple Books, or the Google Play store. Some libraries allow you to check out audiobooks on their online library catalog.
#3: Make reading a part of your summer schedule
To encourage reading, you can designate a time for Drop Everything and Read for the entire family. This is a way to share the love of reading together. After reading, the family can share what they read with each other.
#4: Write in a journal
One way to help your child remember what they read to share it once school begins is to write a journal as they read the book. You can purchase an inexpensive notebook and have your child decorate it to make it fun. Each day they can write a reaction to what they read. You can make it more organized by including questions to help your child get started.
#5: Join a Summer Reading Program
Check with your local library or bookstore to join their Summer Reading program. Most of the programs are targeted at middle and elementary school students and provide incentives to motivate your child to read. Most of these go through September. Some summer reading programs are:
Summer reading helps prevent summer learning loss and is a great way to improve reading skills. At Sanford School, we have two primary goals for summer reading: fostering a love of reading and keeping academic skills sharp through the summer. We encourage our students to read a book of choice for all grades, and older students will also read at least one thematic book that contributes more specifically to their academic growth and helps them prepare for their upcoming English class.
See Also: What Should My Child Read This Summer?
---
Sandy Sutty is the Technology Integration Coordinator and Upper School Librarian at Sanford School. She has a Master's in Science in Instructional Technology and Library Science and a Bachelor of Science in Elementary and Early Childhood Education. She is also a member of the advisory board of the UDLib/SEARCH program and is Google Certified.
---