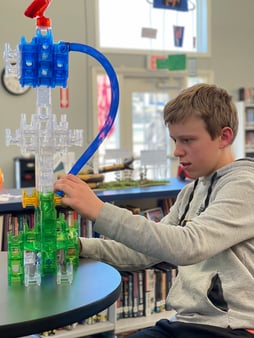 If you are looking for a way to have fun with your child while also keeping their brains engaged, then these STEM (science, technology, engineering, and math) board games are for you! Some games are for groups, so they're perfect to pull out for a Family Game Night, while others have solo or two-player options for kids who want more independent fun.
Recommended Ages: 8 and up
1 Player
If your child likes logic puzzles then this game will be perfect! This cat-themed game includes 40 challenges that range from beginner to expert. The player can move the cats around the room to help visualize the situation as they use their deductive reasoning skills to determine which cat committed the given crime.
Recommended Ages: 13 and up
2-5 Players
Budding chemists will be drawn to this game where players score points by using elements of chemical compounds. Each chemical compound card shows the atomic arrangement and related electrons, and the scoreboard is a periodic table.
Recommended Ages: 8 and up
1 Player
Each of the challenge cards tells you exactly where to place certain towers on a grid and also gives a list of what other towers you must add on your own. You must arrange the pieces in such a way that when you drop a marble from the start position it lands in the target tower. With 60 cards ranging in difficulty from beginner to expert, players can keep challenging themselves!
Recommended Ages: 8 and up
2 Players
One player serves as the Codemaker and uses various colored pegs to create a pattern. The second player, the Codebreaker, must use logic, deductive reasoning, and clues from the Codemaker to crack the code in ten guesses or less.
Recommended Ages: 10 and up
2-4 Players
Each number on the board is color-coded based on its factors, and players use their knowledge of multiplication, division, factorization, and prime numbers to be the first to move their pawns from 1 all the way to 101. This game helps kids to practice their math facts in a colorful and entertaining way!
Recommended Ages: 8 and up
1 or More Players
The game begins with twelve cards face up on the table and then players must race to find a "set"—cards that match three of the four characteristics (color, number, shading, or shape). Set is one of those wonderful games that is quick to learn but provides hours of fun!
Recommended Ages: 8 and up
1-4 Players
The classic childhood game of Pick Up Sticks is played by dropping sticks on a table and carefully removing one stick at a time without moving any other sticks. Suspend is almost like playing Pick Up Sticks in reverse! Instead of taking pieces from a pile on the ground, each player must balance a wave-shaped rod on the rod tower without toppling it.
Whether you try one or all seven, these games are bound to add some STEM-based fun to your family's leisure time!