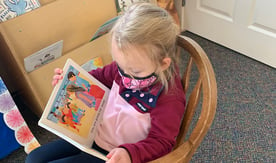 Winter Break is a great time to cuddle up with your kids and do some reading! Below we have a list of holiday reads for young children that celebrate holiday traditions from all over the world. Use these books to revisit holidays that you know and love or to learn about a new celebration.
Books to Celebrate Christmas
Weird But True Christmas: 300 Festive Facts to Light Up the Holidays

b

y National Geographic Kids


If your kids want a change of pace from classic Christmas stories, pick up this book and prepare to be amazed at all of the Yuletide trivia that your kids explore.
I Got the Christmas Spirit

by Connie Schoefield-Morrison


Follow a young Black girl and her mother as they go shopping, ice skating, and caroling to celebrate the holidays. The examples of onomatopoeia sprinkled through the text and the vibrant illustrations will make this a hit for a read aloud.
Books to Celebrate Diwali

Let's Celebrate 5 Days of Diwali! (Maya & Neel's India Adventure Series, Book 1)

by Ajanta and Vivek Chakraborty


This beginner's guide focuses on two Indian American siblings who visit relatives in India and learn about all of the elements of Diwali, including traditional sweets, Rangoli drawings, fireworks, and, of course, the beautiful lights that celebrate the season.
Binny's Diwali

by Thrity Umrigar


Binny talks to her class about her Diwali traditions in this book that celebrates culture and shows how valuable it is for kids to share their experiences with those around them. Binny's vivid descriptions will help bring Diwali to life for your young reader.
Books to Celebrate Hannukah

The Story of Hannukah

by David Adler


The classic blue and white colors of Hanukkah feature prominently in the illustrations of this book that retells the traditional story of the warrior Maccabees and the oil that burned for eight nights and led to the symbolism of the eight-candled menorah. Readers can also look forward to a recipe for latkes and information on how to play the dreidel game.
Maccabee! The Story of Hanukkah

by Tina Balsley


This comic book style artwork in this book and rhyming text adds a fun twist to the Hanukkah story of Maccabees' battle to reclaim Jerusalem. The end of the book includes detailed descriptions to further flesh out the legend, so this book is a perfect balance between a unique retelling and the more classic background information.
Books to Celebrate Kwanzaa

Seven Spools of Thread: A Kwanzaa Story

by Angela Shelf Medearis


This folktale-style story tells the tale of seven brothers who frustrate their families with their endless bickering. Their father gives them an ultimatum: work together to demonstrate the seven principles of Kwanzaa and make gold from seven individual spools of thread.
My First Kwanzaa

by Karen Katz


Narrated by a smiling little girl surrounded by loving extended family and friends, she explains how seven candles lit over seven days each celebrates a particular principle of Kwanzaa. Next, the girl explains the significance of each day. The Swahili name for each day, its pronunciation and translation, prefaces each section; various other Swahili words are interspersed.
Celebrate Holidays Around the World All Year
What Do You Celebrate? Holidays and Festivals Around the World

by Whitney Stewart


Keep learning about traditions around the world all year long with this book that highlights various celebrations from January to December. In addition to describing the festivities, each page also provides a recipe and a craft that is connected to the holiday!
At Sanford, we know the importance of reading books with characters as diverse as our communities. Kids are able to connect to the story and celebrate our diverse world. We offer a wide variety of multicultural books in our library and in the classroom libraries and provide diversity in the curriculum.
See Also: Give the Gift of Reading, Finding Great Children's Books Starting Black Characters
---
Cecilie Coker is the Lower School librarian and Lower School French teacher for Sanford School, a Preschool-Grade 12 independent day school in Hockessin, DE. Originally from Oslo, Norway Cecilie received a bachelor's degree in sociology/anthropology and elementary education from Middlebury College. She then attended UMass, Boston, where she earned a master's degree in special education.
---