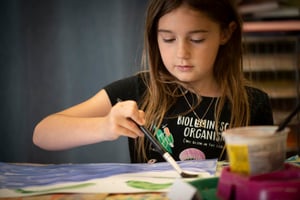 If you ask young children what they want to be when they grow up, the most popular career choices are artists or athletes...and an occasional paleontologist. No matter where their dreams take them, though, they will rely on the skills, behaviors, and qualities that develop during a high-quality art education experience.
Sometimes these are areas that aren't stressed in any other part of their education; sometimes they reinforce practices students are learning in their academic subjects. Some of these artistic behaviors include:
Problem-finding (research, visualize possibilities, think divergently)

Problem-solving (revise, refine, reinvent, infer and understand)

Experimenting (improvise, explore media, innovate)

Developing an array of work habits (plan, persevere, engage, set goals, organize, discuss, take risks, practice, rework mistakes)
The process of devising, creating, and revising art allows students the chance to practice these skills creatively. These skills are so valued by today's employers, that some of the nation's top business schools are offering courses that deliberately foster students' critical thinking and creativity in order to cultivate fresh approaches to identifying problems and developing solutions.
How exactly does a good art curriculum help? Stanford researcher Elliot Eisner's exploration of the value of the visual arts explains it best in his 10 Lessons the Arts Teach.
"The arts teach children that in complex forms of problem-solving, purposes are seldom fixed, but change with circumstance and opportunity."
At its essence, Eisner finds that a thoughtful, quality art curriculum leads students to get comfortable with new experiences, see the world in a new way, value multiple perspectives, and use their developing world view and tool kit of resources to approach new challenges in creative ways.
As a 40-year veteran of art education, I have seen students get stumped or become distraught when his or her project gets "messed up." I call them happy accidents. Author Barney Saltzberg calls them "Beautiful Oops" in this video:
At Sanford School, we celebrate these happy accidents, because they inevitably propel us forward to another way of solving a problem. The skills learned in the art classroom are becoming increasingly valued as we understand the link between visual arts and important skills that will help all future artists, athletes, and even paleontologists live fulfilling, productive lives.
---
A 41-year veteran of teaching,

Betty O'Regan

was an art instructor and department chair at Sanford for 38 years. Over that time she taught Kindergarten through 12th-grade students and had the pleasure of teaching many of the children of her previous students, and even having some former students as colleagues! Recognized as Delaware's Art Teacher of the Year in 2002, Betty received a grant to study Aboriginal art in Australia, presented at several national conventions, and published articles in SchoolArts and Scholastic Art magazines. She embraces life-long learning, continuing her education through various courses, immersion programs, conferences, and travel, as well as remaining a practicing artist.
---