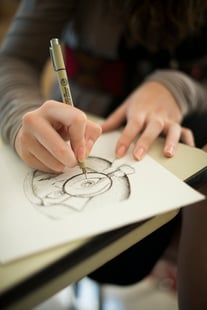 When you think about what makes a child "smart" the first things that come to mind are often things like scores on a math quiz, or a grade on a writing assignment in English class. However, it's important to remember that there are many different ways to be smart, including having high levels of "emotional intelligence," also referred to as "emotional quotient" or "EQ." According to Helpguide International, emotional intelligence is the:
"ability to understand, use, and manage your own emotions in positive ways to relieve stress, communicate effectively, empathize with others, overcome challenges and defuse conflict."
These kinds of skills are invaluable, because, as the authors explain, "your IQ [intelligence quotient] can help you get into college, but it's your EQ [emotional quotient] that will help you manage [your] stress and emotions when facing your final exams." Developing emotional intelligence early can help students build self-confidence and resilience, as well as lay the foundations for strong interpersonal relationships as children, teens, and adults.

Art Education develops EQ
A study from The Brookings Institute, a public policy organization, found that, when compared to students who did not have access to the same experiences, students who participated in arts education gained significant benefits in some of the key areas of emotional intelligence. For example:
Students in the experimental group showed an increase in the amount of compassion that they had for others
Expressed more interest in how others felt
Were more likely to have a desire to help others who were treated badly.
In addition, the study found that students who engaged in art instruction rated school work as more enjoyable and claimed that art helped them think about things in new ways.

Art Education develops life skills
Veteran Sanford art teacher Nina Silverman also believes that art education can lead students to reap significant benefits, both in the classroom and in life. In her article "The P's, Guiding Principles in the Art Studio: Skills for Lifelong Learning," Silverman describes nearly forty terms--all of them beginning with the letter "P"--that relate to the positive returns that art instruction can bring for students. Some examples include:
Patience
Passion
Perspective
Purpose.
All of the words that appear on Silverman's list are developed in her classroom and those of other Sanford art teachers.

Art Education at Sanford
At Sanford, we believe that art education has the power to uniquely complement and extend the lessons being taught in academic classrooms, and we are confident that our students will look back on their art classes as formative experiences in their lives that helped them grow as artists, students, and individuals. We encourage you to contact our Admissions Office to schedule a campus tour and see one of our art classes in action.