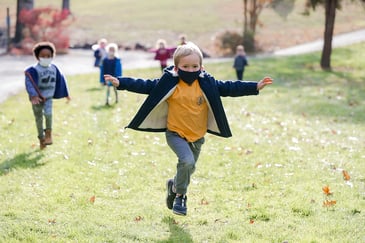 A pandemic perk? Is there such a thing? To be sure, being a student or an educator during the 2020–21 and 2021–22 school years has been difficult. One strategy to staying safe, however, turned out to have real benefits—outdoor classrooms.
Throughout the pandemic, spending time outdoors gave students and teachers a better sense of normalcy as we could be closer together. It allows us to do many of the things schools often take for granted such as learning collaboratively, developing emotional intelligence, and clearing the mind.
Embracing Collaborative Learning
Group work is an essential skill that students need to master to succeed in the world. The give and take of compromise is not easy and needs to be practiced. Being able to go outside and sit near enough to one another to work together gave students an opportunity to do just that when indoors physical distancing kept them apart.
Developing emotional intelligence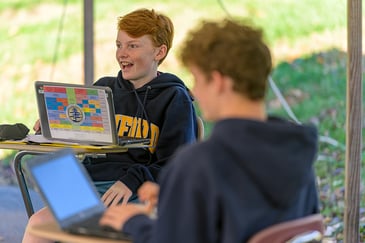 The social-emotional learning that happens when students and teachers see smiles, puzzled faces, and even angry or sad frowns is an important life skill. Reading people's expressions as well as understanding and reacting to the underlying emotions are skills that are nearly impossible to develop when wearing masks. Months before mask requirements were amended for indoor learning spaces, interactions without masks were an option outdoors. Going outside and seeing classmates' full expressions while having discussions or sharing ideas helps:
Students to better understand each other, which can help them to build empathy
Teachers to be able to see the subtle changes in students' expressions, which can provide information about which students may be struggling and which are comprehending, allowing for more individualized instruction.
Clearing the mind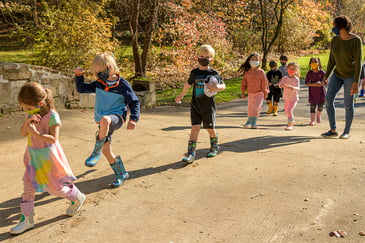 Taking a break to be outdoors is also good for morale. There is just something about fresh air, sunshine, a nice breeze, or the chill of a fall morning that wakes up your brain. Taking a moment to listen to the birds or the sound of traffic in the distance can help us be more mindful and settle our busy brains so that better learning can occur. What might seem to be a more distracting learning space often turns out to be the opposite.
A study by Ming Kuo of the University of Illinois at Urbana-Champaign found that a bit of outdoor learning has benefits that persist even after students return to their classroom. The study documented increased student engagement during a lesson that followed learning outdoors in comparison to students whose learning was confined to the four walls of the classroom.
Pandemic Silver-Lining

While we all wish the pandemic never happened and are ready for it to be over, we can still learn from it. We can make outdoor learning a part of our daily lives and enjoy its benefits more often and indefinitely. Let's pack up our pencils, paper, books, and laptops and get outside. There is learning to be done!