Engage your kids in learning throughout the summer with a variety of experiences to help them to continue their growth and prevent learning loss. If you have a phone or tablet, apps can do more than keep them busy. It is important to select apps that engage your child, strengthen their skills, and promote learning. In addition, make sure to balance screen time with playtime to help your child to create a healthy relationship with technology.
There are many fun apps available for kids to use that promote collaboration instead of just gaming or watching videos. For example, use a photo app to capture your summer adventures and then create a project. For instance, make an eBook with text, images, and videos using a presentation editor like the Google Slides app, part of the Google Apps, to preserve your memories.
At Sanford School, we are a Google Suite for Education school. Our students learn how to use the productivity tools to empower their learning. We are committed to using technology as a tool to enhance teaching, improve student learning, and help students further their own goals preparing them for lifelong learning in a digital world.
When selecting apps for your children consider the following: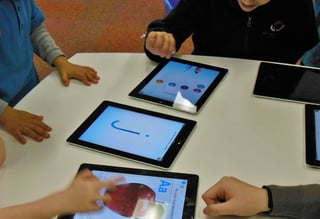 Is it age appropriate? Make sure you read the details that

provides th

e rating and reviews.

Make sure the app is from a reliable source.

Look for content that includes your child's interests or around a travel destination that you will be visiting.

Select apps that are ad free and read their privacy policy to ensure it is safe.

How much does it cost? Some apps have a free version that allow you to test it out, allowing you to upgrade later.

Find apps that allow you to play with your child or talk about the app with your child.
Below are some resources on using apps and finding apps for your child:
ISTE's Use This 5 Step Process to Confidently Choose the Right Apps
How Much Screen Time is OK for my kid(s)?
Common Sense Best Apps for Kids
Common Sense Best Road Trip Apps
ALA Best Apps for Teaching and Learning 2017
Scholastic's Best Educational Apps for Students
---
Sandy Sutty is the Technology Integration Coordinator and Upper School Librarian at Sanford School. She has a Master's in Science in Instructional Technology and Library Science and a Bachelor of Science in Elementary and Early Childhood Education. She is also a member of the advisory board of the UDLib/SEARCH program.
---
See Also: Summer Programs: The Learning and Fun Continue Beyond the School Year, What Should My Child Read this Summer? and Finding the Right Summer Enrichment Program