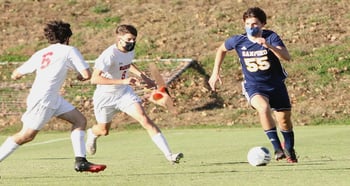 Offering high school sports during a pandemic is challenging. However, because athletic programs and participation are beneficial for students, many schools have taken steps to safely and effectively offer sports even in the midst of COVID-19. Here are a few strategies that our coaches and administrators have developed and implemented to safely play sports in a pandemic.
Adding HEALTH & safety protocols
Coaches require that student-athletes complete additional health screenings and temperature checks before participating in athletic practices and competitions. Our coaches also closely monitor practices and games to ensure that players do not display any signs or symptoms of COVID-19. Hand-washing stations and/or hand sanitizer supplies are provided at or near all workout areas. All athletes and coaches are tested for COVID frequently. If a participant tests positive, we implement our COVID-19 Response Plan, which follows guidelines prescribed by the CDC and the Delaware Division of Public Health.
Limiting Contact With Others
Students and coaches must wear masks properly at all times, even when playing outside. They must also bring their own water bottles and pinnies. Coaches have modified practices to include more skills and small group activities. Additionally, shared equipment—which is used minimally—is sanitized daily. Spectators were not allowed to attend fall and winter competitions. Based on a variety of factors, including the advent of vaccines, the outdoor nature of spring sports, and the successful implementation of safety protocols throughout the academic year, Sanford will permit two spectators for each home-team athlete during spring contests.
Being Flexible
Coaches have changed the way they approach practices and games. Instead of watching game films as a group, they watch it through HUDL, an online platform for video sharing and review by teams and players. Virtual meetings are set up to discuss game plans. Parent meetings are being held through Zoom. In some instances, game schedules have to be changed and adjusted with very short notice due to COVID-19 concerns.
Focusing on community and communicatioN
At the start of every athletic season, our athletic director, coaches, and school administrators communicate with students and families about the protocols in place to keep everyone safe. To help maintain community connections, sporting events are livestreamed and/or recorded so that families have the opportunity to see our athletes in action. We are also fortunate to have an Upper School Student Media Team, which broadcasts games with commentary to enrich our community's experiences.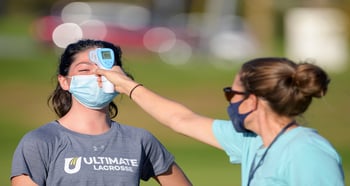 Providing our students with opportunities to play has been invaluable. The Sanford School community has made many adjustments to safely facilitate athletic competition at home and away venues. Our flexibility, resilience, and adherence to COVID-19 guidelines have been vital components in helping us successfully participate in interscholastic athletics during the 2020–2021 school year.
---
Caitlin Brooks is the Associate Director of Athletics and a Health Instructor at Sanford School. She received her Bachelor of Science in Health and Human Performance from Virginia Commonwealth University. Caitlin played field hockey in college and is currently the coach for Sanford's field hockey and girls' lacrosse teams.
---