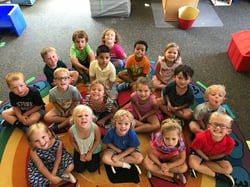 "Students are more likely to engage in healthy behaviors and succeed academically when they feel connected to school," according to the Centers for Disease Control and Prevention (CDC) report. Having a home and school connection brings positive benefits concerning both academic success and healthy decision-making. Below are a few activities that can be used to strengthen the support network for children in the classroom to create a caring community.
knowledge is power: Learn about your students
Collection Museum:

During the first week of school we ask students to bring in something they love or collect, like shells, rocks, or Legos. They present to the whole group about their collection and then we display all of the items in a Classroom Museum and give students time to explore all of the exhibits.



Star Student Program

: Each week we choose a Star Student, and that child shares things about themselves with the whole group, such as bringing in their favorite book for a classroom read aloud. The rest of the students show how much they value the Star Student by writing kind notes to the child. At the end of the week, the Star Student is presented with a bound book that includes all of the notes from students and teachers talking about the things that make that Star Student an important part of the community.
Mix It UP: provide many opportunites for kids to connect
Color Cube Lunch

: Once a week students close their eyes and choose a cube from a bag, then they spend lunchtime chatting with anyone who chose a cube of the same color.

Henry Hikes:

We read a series of books about a boy who goes on hikes through his neighborhood, and then during the year we facilitate three Explorer Days where students go on adventures around the school campus. The children have to work in groups to follow a map, search for clues, and work to complete cooperative tasks, such as building a bird feeder or building a shelter.

Book Clubs:

The entire grade participates in several Book Clubs over the course of the year. Children read portions of the book at home with their families, and then on Wednesdays, we host a book chat so students can talk with each other about components such as what parts surprised them, which character they like best, and what they predict will happen in next week's chapters.
start the day on the right foot: Morning meetings
Every day we set the tone for our community by starting class with Morning Meeting.

Morning Meeting allows us to acknowledge each child as an individual (Greeting), while still showing them that we are connected as a single classroom (Morning Message), and then allowing the children to be active participants in our community (Sharing). Each day Morning Meeting includes the following:

Greeting:

Each child greets the student next to them by name so that the day begins with everyone feeling recognized and appreciated.

Morning Message: The teacher reads a posted message about a special activity happening that day, or, sometimes, about a topic that needs to be discussed in the classroom community.
Sharing:

This is a time for every child to be able to contribute to the conversation. Sometimes we have students share about themselves (ex: What's your favorite fruit?), and sometimes we have students brainstorm ideas about an upcoming event (ex: What games should we play at Valentine's Day party?). We will also use this time to discuss issues that affect our community (ex: How can we fairly judge whether a ball was in or out when we play four-square at recess?)

Completing this cycle each morning gives students a daily reminder of how important each person is in the class community.
Sanford School is a caring school community because we want to help our students to cultivate relationships just as much as we want to encourage academic growth. When students feel known and appreciated they will enjoy school more and perform better academically. We work hard to provide multiple opportunities for students to build their connections with other children and us, their teachers. We are confident that because of the work we do at Sanford our classroom community is a warm, welcoming place for students to learn and grow!
---
Krista Berneike is a graduate of Boston University's Wheelock College of Education and Human Development. Of her 34 years of teaching, she has spent 28 years at Sanford. Prior to teaching preschool, she taught second-grade, Prekindergarten, and Kindergarten. Krista was the recipient of the Paul Donovan Award for Excellence in Professional Development. She believes that learning is a lifelong journey and is committed to providing a loving, developmentally sound education for young children.
Jen Bowen is in her 17th year of teaching, and her favorite part of being an educator is helping a student to tackle new challenges and seeing their smile at the moment of understanding. She attended Vanderbilt University for undergraduate studies and then earned her master's degrees from both Vanderbilt and American University. Fun fact about Jen: It was her second-grade teacher who inspired her to become an educator, so now, as a second-grade teacher herself, Jen hopes to motivate her own students to discover and follow their dreams.
Ann Marie Galasso attended Radford University for her undergraduate studies and Wilmington University for her graduate degree. Though this is her sixth year teaching, it is her first year teaching at Sanford. Ann Marie believes that learning involves the whole child, and she knows that the Sanford community embraces this idea. Fun fact about Ann Marie: She attended Sanford School from 1st grade through 12th grade, and has several Sanford teachers to thank for her love of learning!
---
See Also: Parent Involvement Improves Your Child's Educational Experience