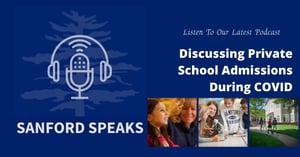 Private school admissions can be tricky, and in 2020 the process is all the more confusing. Yet while the world may be on pause, your child's education shouldn't wait. Admission offices are finding new ways to connect with families and prospective students this year, providing myriad opportunities for parents to learn about and engage with their schools.
Connect Virtually
The easiest way to learn about a school is to visit their website or attend a virtual open house. This gives you a chance to learn the basic facts about a school before delving into the more nuanced aspects of what makes a school unique. Here, you can learn about the curriculum a school implements, the specifics of its college prep program, its extracurricular offerings, and the measures it takes to be affordable. What a school chooses to emphasize on its website also provides a glimpse into the school's larger culture and values. What student successes does a school's website choose to showcase? How does a school express its mission? Additionally, check if a school is offering virtual tours. At Sanford School, we offer guided virtual tours for prospective families to tour our campus and connect with our admission team from the comfort and safety of their homes.
Speak with members of the school
The internet provides a great resource to get information about a school, but nothing can replace hearing directly from members of a school community. The admission team is a natural starting point for these conversations. By connecting with an admission representative, you can have a personalized conversation to determine if a school is the right fit for you and your family. This provides a great opportunity to learn about a school's affordability, elective offerings, extracurriculars, or other topics you are interested in. Ask admission representatives about potential ways to speak with other members of the school, such as faculty, administrators, and current or former students. In these conversations you can gain a better sense of what goes on inside of the classroom, and ask questions on topics ranging from a school's diversity culture to its handling of remote learning. Admission events, like Sanford's informational webinars, are a great opportunity to hear different perspectives about what makes a school unique and answer any specific questions you may have.
Know your child
Ultimately, the challenge of picking a school for your child is one of determining where they will best learn, grow, and develop as individuals. A child interested in math and science may gravitate toward a school with engaging STEM offerings, while a child passionate about music may look for a school with a robust performing arts program. If your child is unsure of what interests to pursue, ask about how a school allows its students to explore the different options available to them. Each child is unique, and every school is different. Therefore it's important to consider how your child fits into the community of a school. Although this can seem like a daunting task, knowing your child and trusting their judgement is the first step in solving it. If your child can participate in a shadow day, you'll find the answer to this question in the car ride home after you pick them up and simply ask, "how was your day?"
| | |
| --- | --- |
| | |
---
Justin McLellan graduated from Sanford as a lifer in 2016 before receiving a degree in philosophy from the University of Notre Dame. He has had extensive teaching experience, working in classrooms in the United States, Peru, and Italy, and returned to Sanford as a Communications and Technology Associate in 2020.
---