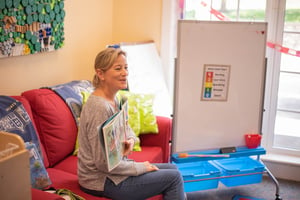 This past school year–in fact the past few–have been filled with some tough times, and parents are often asked really hard questions by some of our littlest learners. With all that's going on in our world, our nation, and our schools today, it's hard to know what to say about these very complex topics.
It's OK to say you don't know
The good news is that you don't have to have it all figured out, or to know how you want to talk about tough issues with your child just yet. Admitting you don't know an answer, or letting your child know that it's hard for you to talk about, helps to model to your child that it's okay not to have all the answers.
How many times have you been asked a question in the car that took you by surprise? How about at bedtime? Don't be afraid to say, "I'm not sure. Let's see if we can find a book about it to help us both understand more." You could also reply by saying, "I am not ready to talk about it with you right now because it makes me too sad. Let's talk about it later, and we'll read a book about it together."
Explore these books with your child to help unravel complex topics
If you get a tricky question from your child, chances are there is a book that will help give you the words to unravel it. Here are some great books to start with:

Race Cars, by Jenny Devenny, is a book that helps readers to understand white privilege.

Dog Heaven and Cat Heaven, by Cynthia Rylant, can help your child to cope after losing a beloved pet.

What Makes a Baby, by Cory Silverberg, can help explain that often-dreaded question "where do babies come from" in an inclusive way and without delving into sex.

Why Do Families Change?, by Dr. Jillian Roberts, delves into the topic of divorce.

We're All Wonders, a picture book companion to R. J. Palacio's novel, Wonder, is a great way to start a discussion about people who are differently-abled.

For older children, Celebrate Your Body, by Sonya Renee Taylor and Bianca I. Laureano, and Growing Up Great!, by Scott Todnem, can help both you and your child navigate puberty.

Pride: The Story of Harvey Milk and the Rainbow Flag, by Rob Sanders, is a picture book introduction to a symbol of equality for people who identify as LGBTQ.

For ways to talk about how human actions impact our planet, try What a Waste by Jess French.

For dealing with feelings of loss, whether it be separation anxiety, the death of a loved one, or just wondering why bad things happen, The Invisible String, by Patrice Karst, can help your child work through those difficult times.
Preview Books in Preparation for your conversation
As a parent, you will want to review any books ahead of time to make sure they fit your family best. And in the process of finding that perfect story, you might be surprised how your understanding of a topic and the ways you want to talk about it with your child expand and materialize with just a little help from a book.
Let the conversation flourish
While these books will provide you and your child with information and answers, they may also spark new questions and wonderings. Embrace curiosity and allow yourself to dig deeper into discussions with your family.