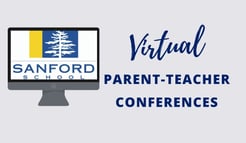 The relationship between home and school is pivotal to the success of your child. As parent-teacher conferences are announced, the way you approach this relationship can help shape important outcomes for your child. It is important to bring patience, understanding, and compassion to the conversation, especially now during the pandemic. Although conferences will be virtual, the content of the meeting is just as meaningful and essential. Use this unique one-on-one time to explore how you can support the "formal" learning process and get a fresh perspective on your child's development. Planning ahead can help you establish a solid partnership with your child's teacher.
Here are a few tips to make your parent-teacher conference more productive:
1. Do your homework
While the teacher should guide the conference, it is your role to come prepared. Familiarize yourself with your child's schoolwork, reviewing both the content and the quality of their assignments. Look up recent assessments, report cards, standardized testing, and watch for patterns or changes in the results. Consider ways that you can extend your child's learning, improve their communication skills, or promote healthy habits. Write down a few questions that can be addressed in the time allotted for your meeting. Then establish a few priorities. What do you hope to gain from the conversation?
2. Talk to your child
A few days before your conference, make time to ask your child about the school year, the learning experience, their chemistry with classmates, and how things are going. What does your child enjoy and dislike? Remember that young children may not understand the depth of your questions. Older children may offer suggestions to improve their learning. Always close the loop and share positive comments from the teacher after the conference!
3. ARRIVE ON TIME AND Listen to the teacher
Make sure you are ready on the Zoom conference call at your scheduled time and are ready to listen. It is extremely valuable to get input from the teacher before you begin asking questions or sharing your concerns. Your child's teacher is an expert on teaching children at this specific grade level (and has many other students by comparison). Ask the teacher to share details of the program and the dynamics of the class. Allow the teacher to "shine light" on how things are working for your child in an academic environment. Learning to adapt to different expectations in a school setting may produce different outcomes with your child. Then, share specific details that you have noticed about our child. By working together, you can develop an effective plan for your child to provide the best learning experience for them.
4. Bring a positive attitude
Whether your child is excelling, struggling, or needs help balancing the demands of school, it is important to start your conference with a healthy perspective. Remember that your teacher wants your child to succeed. Every child has strengths and weaknesses. Consider how your child has developed in recent years, their challenges and successes. Then, think about how the teacher might perceive these skills. Begin by asking how you can support your child's learning. You will be more productive if you are on the same team—so start on a positive note.
5. Leave with a plan
With all productive meetings, it is good to leave with "next steps." How can you support your child at home? Realistic plans might include asking about their classes and monitoring homework. You might adjust family schedules, set goals to complete tasks, or establish a consistent bedtime, for example. Find out the best way to communicate with the teacher (email, meetings, etc.). If you have larger concerns about performance, you might agree to weekly or monthly check-ins or schedule a follow-up meeting.
By having a strong parent-teacher relationship, your child will feel supported and confident in their learning. At Sanford, we have ongoing communication with our families throughout the school year to connect them their child's progress. In addition, we have student-led conferences in the spring. Ongoing communication with your child's teachers is one of the keys to your child's success in school.
See Also: Make the Most of Your Parent-Teacher Conferences, Parent Involvement Improves Your Child's Educational Experience, The Power of Student-Led Conferences.
---
Jan Ross is a parent of a senior at Sanford School and Director of Marketing & Public Relations at the Kalmar Nyckel Foundation in Wilmington, DE. She headed up admissions at St. Anne's Episcopal School in Middletown, DE, and marketing at Landmark School in Prides Crossing, MA. For 17 years, she held senior posts in advertising and entertainment marketing and has a bachelor of arts degree from Mount Holyoke College.
---