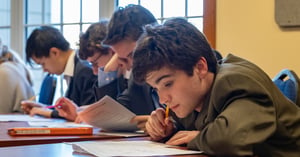 The summer slide is the learning loss that some students have at the beginning of the school year after the summer break. Studies have shown that there is a loss of about one to three months of knowledge from the end of the school year to the start. To avoid the summer slide, students need to be actively involved in educational opportunities so they can return to school ready to learn.
Keep Them Reading
Students should find something to read every day. It can be a magazine, comic book, a current event, or novel of their choice. To find a great read, you can search Good Reads, New York Times Best Sellers, YALSA's Best of the Best Books, or ask your teacher for reading suggestions. In addition, all schools give a summer reading program that requires students to read specific books. As your child is reading, it is important for them to write down notes and questions along the way in order to complete any assignments. If you're looking for help with annotating and active reading strategies, download the How to Be an Active Reader Reading Comprehension & Annotation Strategies guide.
Practice Math
Have your child use math skills in everyday activities such as calculating the price of items when shopping, baking, or reading a map when traveling. Set a goal to solve at least a couple of math problems a day. To review skills, you can use Khan Academy or Summer Skills workbooks.
Engage Them In Science
Summer presents a terrific opportunity for students to engage in science outside of a textbook or online learning platform. The more that students have fun with science, the more that they can grow to appreciate the technical detail that they have to learn during the school year. Here are local places close to Sanford that students can go to to learn about science in their own backyard: Delaware Nature Society, DuPont Environmental Education Center, Ashland Nature Center of Delaware Nature Society, Abbott's Mill Nature Center, Longwood Gardens, and Natural History Museum. In addition, students can find a wide variety of citizen science projects that help real researchers at Zooniverse.
Review a World Language
Duolingo is a great resource for students to start from the beginning with a new language or review one they are studying. It is also available as an app that can be downloaded to a smartphone.
Brush Up on Writing
By incorporating daily writing will help improve your child's skills. Students can write poems, stories, memories, what they've done for the day, or a letter to a friend. Keep in mind that some writing is just about the flow of ideas. It is also a good idea to sometimes practice revising your writing and practicing your grammar skills.
Enroll Your Child in a Summer Program
Summer Enrichment programs provide supplemental learning opportunities for students across a variety of subject areas. The Summer Enrichment Program at Sanford is crafted to engage students entering Grade 5 through Grade 12 in topics that boost their understanding, curiosity, and their interest in learning. Each program is designed to address the individualized needs of students and target areas of need.
---
Eric Peoples is the former Director of Sanford Summer Programs and Upper School History instructor at Sanford School.
---