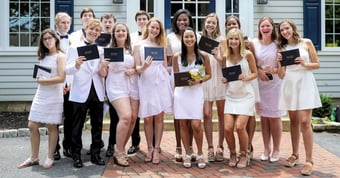 Impending graduation at any institution fills its students with a variety of emotions: excitement at the idea of carving a new path independent of everything they have ever known, uncertainty about what their future may hold, and often the melancholy sadness that comes with having to leave friends who have become family over the last four years. These are their people. As graduates leave to start the next chapters of their lives, they will remember so much about their friends–their contagious laughter, their lengthy list of inside jokes, their support during times of impossible difficulty, and their shared experience of growing up at a school they'll remember forever.
On this eve of separation, students wonder how they will manage to stay in touch with their high school crew when they may be hundreds, sometimes thousands of miles away. To learn more about how students are staying in touch with their besties, we polled our illustrious alumni audience, including three members of Sanford's Class of 2019–Phoebe LaPoint, '19, Skylar Flynn, '19, and Chris Keiser, '19–to understand more about what has kept them most connected.
Group Chats & Group Video Apps
Many alumni report that group chats through apps like iMessage, SnapChat, or WhatsApp, and group video apps like FaceTime or Zoom are their preferred and most common way of communicating with one another. "I've been lucky enough to have high school friends who are always reaching out," says Skylar. Phoebe also touts the importance of this style of communication: "We regularly hop on group FaceTime together, text in group chats, and we've even met at Sanford to talk to each other. We've made sure to keep in touch because we had such strong connections during high school."
Visiting Friends at School
Although it is not always easy to find time in between classes and their other new adult commitments, alumni often make the effort to visit each other at their respective locations. Sometimes alumni choose to stay with friends on campus, set up a time for a meal together while on the way through a friend's college town, attend a special Greek life event with their pal, or have the virtue of seeing friends as a result of a family vacation. Phoebe counts that she has been able to see at least six of her classmates at or near their respective schools (including her twin sister, Hannah LaPoint, '19), and she was planning to visit a seventh before COVID-19 hit.

Alumni Events
Throughout the year, Sanford invites alumni back to campus to reconnect with the school and with each other. Homecoming is popular for alumni who are able to return to campus during fall break; Sanford's homecoming offers a variety of alumni sporting events, performances, and reunion activities. Chris, Skylar, and Phoebe all attended Sanford Homecoming 2019–Skylar attended the varsity volleyball game, Chris performed in the alumni cabaret, and Phoebe played in the alumni volleyball game. "These events have been nice to come back to, especially when I get to spend time with my friends at Sanford because that's always fun, no matter how long we spend apart," reflects Phoebe. "I also really love getting to see my teachers from high school and getting to talk to them about how much they've helped me or just talk about life since Sanford–although it hasn't been that long, a lot has changed!"
Visiting Campus
Many alumni also elect to drop in casually to see the campus, catch up with their friends, and reconnect with current students and former teachers. "I always come to campus with Sanford friends who are in college because it's a great way to catch up with them as well as to see all of our Sanford teachers," explains Chris. "The faculty at Sanford are truly one of the best parts of the school and I'm always happy to visit them because they are all so caring and all-around great people to talk to!"
Staying Connected While Social Distancing
In these unusual and isolating times during COVID-19, alumni have also needed to get creative about how they connect with their high school friends. Here, Phoebe shares some of her favorite socially distant activities to do with her fellow Sanford alumni: "Now that most of us are home, some of us have been hanging out at Sanford or North Star in the parking lot (socially distant, of course). We'll usually just text in a group chat and whoever is free or wants to can come! We usually hang out and just talk for hours until a couple of us have to leave or when it gets dark. Another thing we like to do is watch shows or movies together using an app thing on our computers called Netflix Party, which lets everyone with the link join and watch at the same time."
Stay In Touch
The friendships and memories you had in high school are invaluable. Renewing your friendships and reliving the fun are reasons to stay in touch after graduation. At Sanford, we welcome our alumni to stay connected. Look for offerings from Sanford's Alumni Office to provide our alums with even more opportunities to reconnect with their fellow Warriors. Congratulations to all of our graduates, and we hope that your friends will stay in your heart and in your life for years to come!
---
Katie Trachtenberg '06 is the Assistant Director of College Counseling and Alumni Relations at Sanford School, a preschool-Grade 12 independent day school in Hockessin, DE. She also graduated from Sanford in 2006. Katie received her bachelor's degree in English and Master of Business Administration from the University of Delaware.
---