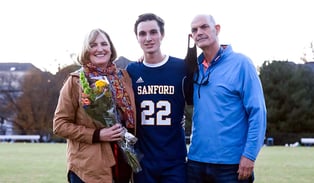 After eighteen or so years, you may be ready to see your senior plan their departure to college and move away, or like many parents, you may be dreading it. Giving yourself time to contemplate this huge life change and to offer some useful tips to your student will make a difference. Here are a few suggestions to help you get ready:
1. Prepare yourself
Ready or not, it is their turn to go out in the world and experience college, the working world, new adventures, and life beyond your home. While they prepare for their next chapter, it is also time for you to accept it and let them take the next steps in their life. Remember, the goal was to raise an independent and responsible person who will soon be an adult. The school year will be full of reminders: maybe a prom, college decision, graduation, and move-in day. These moments may be harder than you think when emotions run high. Do your best to roll with the waves and allow them to navigate the changes.
2. Let them move forward
Whether they are planning for college, trade school, or a gap year, let them make plans. They can work with a school counselor, assess their interests, and submit applications. This is their journey, so allow them to make their own choices. Consider yourself a head coach rather than a player on the same team. You have given them the training and the pep talk; now, let them make the play and experience the world for themselves.
3. Share a few life skills
There are a few important skills you may have put off until now. Are they doing their own laundry, making their bed, and helping with meals? These are great "skills" to help impart, and teaching them gives you a chance to spend additional quality time with them. Do they have a personal bank account yet? If not, it's time to let them set up an account. Consider linking it to yours (so you can transfer funds when needed). Ask them to make their own dentist or doctor appointment. Teach them to make a few easy meals beyond peanut butter and jelly. And how-to sew on a button–because you never know when it will pop off before a big day!
4. Celebrate this chapter
Saying farewell will happen in stages; mark the milestones as they come. Expect anxious moments and irritable reactions–these are normal. The last month of school is a significant time filled with many important end-of-year events. Whether in-person or virtual, make sure to mark your calendars and attend. These events are an important time to celebrate your senior. Before you know it, they will graduate and enter the next phase of their journeys.
Enjoy these last moments while you can and make time for laughter and memories. Find ways to celebrate the journey: family meals, a photo album, parties with family and friends. As always, your relationship will continue to evolve and change as your child continues to become more independent. Lastly, of course, make sure to stay connected because they will still need you and call on you for help.
---
Jan Ross is a parent of a senior at Sanford School and Director of Marketing & Public Relations at the Kalmar Nyckel Foundation in Wilmington, DE. She headed up the admission department at St. Anne's Episcopal School in Middletown, DE and marketing at Landmark School in Prides Crossing, MA. For 17 years, she held senior posts in advertising and entertainment marketing and has a Bachelor of Arts degree from Mount Holyoke College.
---