The term "liberal arts" is used a lot but often misunderstood. STEM, an acronym for Science, Technology, Engineering, and Mathematics, is the latest buzz word in education. To hear people talk about these two concepts, they seem at odds with one another. But are they really?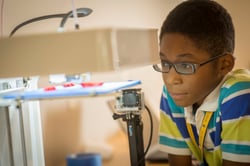 Liberal arts is a shortened version of liberal arts and sciences. It refers to a philosophy of education embraced by many American colleges and universities. A key point here is that the sciences are an important part of a liberal arts education. For example, a biology major in a liberal arts program will devote about one-third of his or her overall college curriculum to biology. The other two-thirds, spread over a wide range of disciplines, offers educational breadth and is the hallmark of a liberal arts education.
In majors such as engineering, nursing, and accounting—fields that are designed specifically to train people to join a profession—students have to take many required courses and have little room in their schedules to enroll in electives outside of their major. In addition, these students are not required to study a foreign language,a typical requirement of a liberal arts degree, simply because there is no room in their schedules.
At large research universities, the largest college is usually the College of Arts and Sciences
in which undergraduates earn a liberal arts degree. Biology, chemistry, physics, and mathematics (STEM fields for sure) are usually part of the College of Arts and Sciences. After graduation, students with these liberal arts degrees enter the work world or head to graduate school, where they may acquire professional training in fields such as law, medicine, business, and many other academic disciplines. Good research seems to suggest that the STEM majors are not enjoying an employment or a long-term earnings advantage over their peers majoring in the liberal arts. If liberal arts graduates are well prepared to excel in STEM professions, then where exactly is the conflict?
Many adults—including parents, politicians, business leaders, and educators—encourage students to pursue professional degrees in the STEM fields, primarily because the perception is that a STEM career will ensure a high paying job upon graduation. Some also believe that what the US needs is more STEM programs so that we can become more competitive in the global marketplace. Statistics show that job prospects for engineers and computer programmers are often strong in their first year out of college, and when compared to other majors, the starting salaries are among the highest. Ironically, however, many STEM graduates often find themselves working for a liberal arts graduate in future years.
By the way, the same can be said for business. Many of the top leaders in the business world earned their first degrees in liberal arts programs. Steve Forbes, Carly Fiorina, and Michael Eisner are all liberal arts graduates.
It is important to understand that STEM and liberal arts and sciences are not mutually exclusive. I hear people make disparaging remarks about liberal arts education, usually based on a misunderstanding of the principles and goals of this type of education. Hundreds of fine liberal arts colleges offer outstanding programs in the sciences, and most of the science/math majors at large universities are also completing liberal arts degrees. All of these students are prepared to move on and become successful in STEM fields.
There is no reason to pit STEM majors against liberal arts and sciences majors. Both programs offer excellent opportunities in science and math. At Sanford School, we counsel our students to pick the college with the best program based on their individual interests.
---
John Ramsey is a former College Counselor and Mathematics instructor at Sanford. He retired after teaching at Sanford for twenty-one years.
---