"What do you do in a makerspace?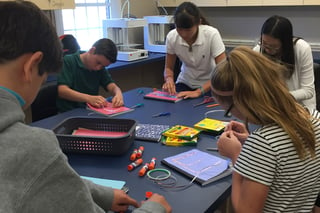 The simple answer is you make things.
Things that you are curious about.

Things that spring from your imagination.

Things that inspire you

and things that you admire.
The informal, playful atmosphere allows learning to unfold, rather than conform to a rigid agenda. Making, rather than consuming is the focus. It is craft, engineering, technology and wonder-driven." (
Thinkers and Tinkers)
Students who have developed a growth mindset expect and appreciate struggle, learn from their mistakes, and value process over product. They embrace challenge and difficulty because they believe that failure is a vehicle through which true learning, growth, and development occur.
One movement that fosters growth mindset in students is the Maker Movement. The Maker Movement supports the development of a growth mindset in students because it encourages students to embrace, tolerate, and expect risk and failure. The philosophies of the Maker Movement and growth mindset align seamlessly because both encourage students to experiment, move through a process of trial and error, and engage in productive failure. To succeed in a maker environment, students need to open themselves up to all kinds of possibilities and be willing to embrace challenges outside their comfort zones.
As the Maker Movement has gained momentum, teachers and administrators have begun to create makerspaces in their buildings with increasing frequency. Each makerspace represents the unique interests, needs, and wants of the community in which it is situated and therefore, no two makerspaces are the same.
In makerspaces, students come together to plan, create, tinker, investigate, improve, and collaborate.
Kids learn by discovery because they are able to explore, play, do, and make. These are spaces where students work together with support from a mentor/teacher to turn knowledge into action. Students can investigate a wide range of possible topics in a makerspace including (but not limited to): robotics, sewing, cooking, gardening, video production, woodworking, programming, drawing, web design, photography, music, art, engineering, electronics, crafting, gaming, and digital creation. The process begins with a plan, moves forward with experimentation and revision, and ends with public sharing of products.
Even though there is much variation in these spaces, all of them adhere to the same global principles that are rooted in the Maker Movement. Accordingly, when creating a makerspace the goal is to create a space that:
I

s engaging, participatory, and hands-on

Moves students from a culture of consumption to a culture of creation

Embraces DIY (do-it-yourself) learning

Is student driven

Empowers students

Encourages peer-to-peer learning

Is a part of a large, global open source community

Varies depending on interests, needs, and wants

Emphasizes process over product

Fosters a growth mindset
---
Emily Amendum is the Middle School Director of Curriculum at Sanford School, a PreK - 12 private school in Hockessin, Delaware.
---
For more information on makerspaces and the Maker Movement, take a look at the resources listed here:
*Thinkers and Tinkers: What is the Maker Movement
Why the Maker Movement Is Important to America's Future
What Is the Maker Movement and Why Should You Care?
Maker Movement Reinvents Education
Defining Makerspaces: What the Research Says