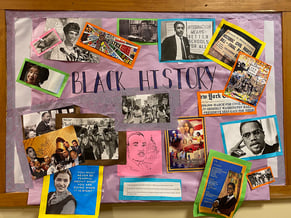 Oftentimes, Black History Month is an opportunity for educators to share the biographies of traditional prominent Black figures of the past: Martin Luther King Jr., Harriet Tubman, Rosa Parks, Ruby Bridges. February has been a month that highlighted the struggle of the Black community, with an implication that the struggle was a thing of the past, and that the concept of racism, prejudice, and discrimination was relegated only to a time prior to the Civil Rights Movement.
The Origin of Black History Month
Without a doubt, such prominent figures have contributed greatly to the advancement of Black people, but focusing only on stories of struggle can limit the potential of the month-long celebration of Black History.
Black History Month was established by Carter G. Woodson, a scholar known as the "Father of Black History," who, throughout his lifetime, was dedicated to celebrating the historical contributions and achievements of Black people. Initially known as "Negro History Week" (1926), celebrations of Black achievement were popularized and thus led to the establishment of Black History Month, which has been celebrated every February since 1976.
Since its inception, Black History Month has been a time to reflect on the fight for equity and celebrate the culture, accomplishments, and achievements of many Black Americans, who fought for and continue to fight for justice.
How can you honor Black History?
Look beyond buses and boycotts.

In addition to the pioneers of Black American history, there are many figures,

both from the past and from the present

, who have been influential in making history. Find current Black figures who are the history makers of the future.


Read books that highlight Black joy.

Look for stories that are not centered around trauma and struggle, but rather stories that portray proud Black characters who are part of loving and caring communities. Such joyful stories are included in the following lists:
Celebrate Black history throughout the year. Find ways to incorporate continued learning about the history, contributions, and achievements of Black people during and outside of Black History Month. Black History, after all, is American History.
Beyond the month of February
Finding the balance between recognizing the historical struggles that Black America has faced, and continues to face, while looking ahead to the future is hard.
Being intentional about celebrating, amplifying, and highlighting the Black experience and Black joy not only during Black History Month, but throughout the entire year, takes deliberateness. Sanford strikes this balance well: As an institution, we seek to learn about the Black trailblazers of the past, and acknowledge the struggle, resistance, and strength that Black America needs to overcome adversity, while simultaneously looking toward the present and the future to find current history makers.