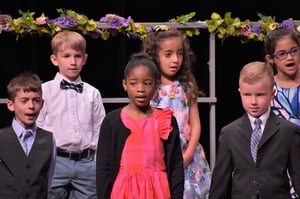 Think back to when you were a child. What kind of music did your parents listen to? Do you remember your parents singing you a lullaby? Perhaps you remember singing songs with your family, friends, or community as part of a celebration. Music is part of being human. Singing with your child is an incredibly important part of developing a well-rounded, creative, and expressive child. An article in the Chicago Tribune notes that singing has a variety of health benefits, from increased antibodies to lower stress levels. In addition, singing has been shown to strengthen mental alertness, build social connections, and improve lung function. From forming key memories with your child to engaging the mind and lowering stress levels, you might consider adding singing to your family life.
THE IMPORTANCE OF SINGING
At Sanford, singing is at the core of everything we do in music class. We teach our students that music is a form of expression, a way of understanding, and a means to explore diverse cultures. Music engages and develops learners kinesthetically, aurally, and visually. Every lesson in our performing arts classes includes singing, as well as other musicianship skills such as instrument playing, movement, and imaginative play. Singing, combined with these other elements, helps to develop a child's creativity, rhythmic competency, physical coordination, self-confidence and more. Children's early experiences with music are immersive and a means to build a musical vocabulary. At home, this could include singing a lullaby with your child before bed. At school, this includes singing and moving during music class in a variety of tonalities and meters. As students' musicianship skills develop, students begin to build and develop a deeper musical vocabulary to improvise and compose music. They exhibit a variety of musicianship skills, including singing, during our performances for the whole school and the wider community. As the children begin to develop preferences for different ways of engaging with music, students in fourth grade may choose to pursue chorus and/or band.
4 ways to add music to your home
Once you recognize the value that music can have for your children, there are many ways to bring more harmony into your home. Here are four fun ideas that you and your family can use to increase your engagement with music:
Check out a new radio station or new playlist on your music streaming app. The car is a great place to listen to new music as a family. Try giving the dial a spin and taking ten minutes to listen or sing along to whatever music the station is playing. Expose your children to a variety of genres. Not sure where to start? Look up jazz singer Ella Fitzgerald, Romantic era composer Claude Debussy, or 1970s rock band Led Zeppelin.
Make your next movie a musical. For your next family movie night consider putting a musical into the rotation. Many animated films like

The Lion King

or

Trolls

have excellent soundtracks, or you could try live-action films like

Mary Poppins

or

Hairspray.

Another idea: choose a movie like

Annie

or

Charlie & the Chocolate Factory

which was recently remade. Watch both the original and new versions and have your kids vote on which one had the best music! Then, add the soundtrack to your listening rotation.

Go to a concert or a show. You could get tickets to a concert hall or theatre, or listen to a band at a restaurant or street musicians at the train station. Listening to live performances with your children can help nurture their love of music. We recommend checking out the performance schedule at The Grand, The Playhouse on Rodney Square, Wilmington Drama League, Delaware Children's Theatre, the Kimmel Center, or the Academy of Music.
Sing karaoke. If all of these ideas for music exploration have you feeling inspired, grab a mic (even if it's just a hairbrush) and make some music of your own! When your kids see you having fun with singing it will encourage them to do the same. Whether you find a restaurant that offers family-friendly karaoke or just look up the lyrics to your favorite songs on YouTube and perform in your living room, you're bound to make some musical memories. Those kinds of connections are what will encourage your children to continue to express themselves musically for the rest of their lives.
See Also: The Value of a Performing Arts Program Reaches Beyond the Stage

---
Jennifer Kelman received a Bachelor of Science in Education for Music Education from Millersville University. Jenn serves as the Lower School Performing Arts Director and Choral Director at Sanford School. Through the power of music, her passion for teaching, and her enthusiasm for performance, Jenn believes that music is an essential part of our student's educational involvement at Sanford School. Jenn continues to expand her educational knowledge by attending music conferences in and around the state, as well as being an active member of Delaware Music Educators Association and Delaware's chapter of American Choral Directors Association. By providing a fun, yet educational experience for our students at Sanford in the music classroom allows them to grow creatively and musically.
Jenna Knaster is a former Performing Arts instructor at Sanford. She attended the University of Delaware where she earned a Bachelor of Music in Music Education with a concentration in flute. While attending UD, she also pursued a minor in jazz piano. Jenna earned a Master of Music in Teaching from the University of Delaware.
---