Recently I was driving behind a license plate that read, "Be A Dad." My thoughts were instantly transported to the night before, when my daughter said, "I want to tell Dad something" as I was kissing her good night. I replied with, "Dad's in with your sister reading her a book, can you tell me? No, you'll be mad at me" she responded. In that moment, I was completely grounded. I felt terrible that I had reacted in the past in a way that would communicate that she could not tell me just about anything. Many instances in my mind replayed when I had been tired and therefore irritated, when I had told her to "GO TO BED AND STOP THIS NONSENSE." I did not listen. I shut her down. Where was my compassion, my caring and understanding?
I want to be a mom who listens patiently, without judgment. A mom who can calmly respond, even while my inner thoughts give me reason to scream. She's only 5 and it turned out that all she wanted to say was "I'm scared," which is her typical bedtime avoidance. But what if my daughter wants to say "I'm scared" as a teen, but is too afraid to tell me and she suffers in agonizing loneliness (silence?) without support from an adult? That thought scares me more than anything else.
Hopefully the next time she wants to talk, I can keep my temper. When my son suddenly opens up at 9pm as I'm kissing him good night, I hope I have the patience to lay with him in his bed and really listen, rather than get into my own bed because I'm exhausted. I want to "Be a Mom" even when I am SO tired, or angry, or frustrated. Those are the moments that I believe build the critical foundation for supported, resilient kids.
Having a parent who loves them, who will stay by their side and who will listen to their most anxious thoughts without judgment, allows children to process the emotional aspect of their struggle and allows them to gain clarity. Once the emotions are heard and processed, the real problem-solving can begin. When I'm at my best, I make suggestions such as, "Have you ever thought about…" or "That sounds like a really tricky situation. What do you think you'll do?"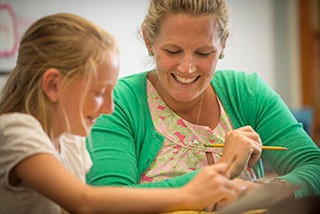 Trusting children to reach their own conclusions can give kids the independence and support they need to fine-tune their problem-solving capabilities for the future.
At Sanford School, my favorite moments as a school counselor are when I am able to provide a listening ear for Upper School students who simply want to talk uninterrupted. This is the beauty of a private school. I have the ability to really get to know each and every one of our students and their families. I'm here as parental back-up, to help students navigate situations, build their self-advocacy skills, and prepare them for that next step, which will be here all too soon!
---
Dr. Lauren Ziady is the former Upper School Counselor & Learning Services Coordinator at Sanford School in Hockessin, Delaware.
---