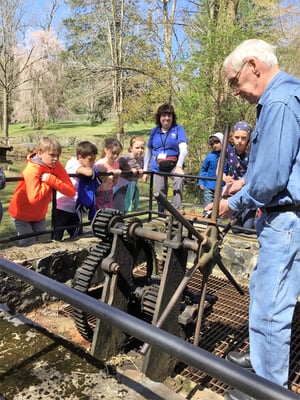 Every year, students excitedly wait for the arrival of summer, a time when they get to escape the routine of school and try something new. Though the anticipation of summertime freedom can be exciting, often, when summer arrives, kids get tired of having nothing to do and bored with the lack of routine. A great way to get out of a summertime rut is to plan day outings for the whole family. Here are seven fun things for you and your family to do this summer in Delaware.
Rehoboth Beach
What better place is there to bring a child on a sweltering summer day than the beach? Rehoboth Beach, Delaware offers public sandy beaches with access to a boardwalk with food, shops, and an amusement park, "Funland." This is a wonderful place to get away with the family, enjoy a swim in the ocean, sunbathe, and have some fun on a ride or play a carnival game.
Delaware Art Museum
Bring out your child's inner artist with a trip to the Delaware Art Museum. In addition to being a non-profit art museum with permanent exhibits and changing temporary exhibits, the Delaware Art Museum is very welcoming of families and children. They have a reduced admissions fee for families of up to 2 adults and 4 children and children 6 years old and under get in free. Museum admission is free on Thursdays from 4:00 PM to 8:00 PM and on Sundays from 10:00 AM to 4:00 PM and the museum holds public tours every Saturday and Sunday at 1:00 PM and 2:00 PM. They also offer stroller tours, youth and adult art classes, and storytelling performances for kids. For families this summer, they will also be holding special yoga in the garden events, studio Sundays, and a summer solstice labyrinth walk.
Brandywine Zoo
Any animal enthusiasts in the family? A trip to the zoo can amaze and delight! Spread across 12 acres of historical land in above the Brandywine River, the Brandywine Zoo is one of over 200 accredited zoos and aquariums in North America. It is open year-round and is committed to taking exceptional care of animals and making family visits enjoyable. This idyllic zoo houses 120 different species and is a great place to escape for the day with the whole family. They hold special events every week, such as "Story Time," held every Thursday, in which the children are read animal stories, "Reptile Shows," Fridays through Sundays, where kids can find out about the unique abilities of reptiles, and many more fun events focused on the education of children and their families.
Winterthur Home and Gardens
You don't have to be a du Pont to enjoy this lovely home and magical gardens. Winterthur is the 175-room home of the du Pont family with adjoining gardens which extend across 60 acres of beautiful landscape. It offers many activities for the whole family, indoors and out. On a nice day, families can borrow an educational backpack and explore the enchanted woods, visit frogs in the reflecting pool, koi in the glade, and see the azalea woods. Even on a rainy day, families can explore Winterthur's special exhibitions and galleries. Guided tours of this du Pont home are accessible to all ages, even with families strollers and feature tours like the "Time Traveler's Tour," which is specifically for children between the ages of 4 and 11 and their families. And on top of all that, Winterthur also hosts special events for families like story time in the enchanted woods, and art rules, a day of arts and crafts in the museum, garden and library.
Delaware Children's Museum
What wouldn't feel special to visit a museum created entirely for them? Located in Wilmington, the Delaware Children's Museum is the first and only children's museum in Delaware. It is committed to widen the perspective of children and encourage a love of learning in the worlds of science, math, and technology. They allow children to explore different concepts based on their individual interests in a process they call "playful learning." On Fridays after 5:00 PM, they reduce admission to five dollars for all visitors.
Cape Henlopen State Park
Looking for a way to get back to nature? Try Delaware's Cape Henlopen Park with its lifeguard patrolled beaches, bathhouse with showers, food counter, and changing rooms, picnic pavilion, disc golf course, and basketball courts. Cape Henlopen also offers hiking and biking trails all year round, an observation tower from World War II, and fishing opportunities. If your child loves the outdoors, the Cape offers summer camps for children from ages 5 to 12, with emphasis on animals, plants, history, or nature. This park provides a peaceful escape to the natural beauty of Lewes, Delaware with activities that the whole family will enjoy.
Hagley Museum
For an up close and educational look at 19th-century life, visit the Hagley Museum. Founded in 1802 as the site of E. I. du Pont's gunpowder works, Hagley is a beautiful place for the family interested in a historical and educational trip. On this 235 acre property stands the workers' commons, the restored mills, and the home and gardens of the du Ponts. Through an educational STEM program, children will learn about water power, simple machines and the properties of different materials through this interactive program. The museum also offers "Hands-on History" programs in which students learn about life in the nineteenth century during the Industrial Revolution.
Whether at a museum, in a garden, or on a beach, there is a myriad of opportunities to make great family memories this summer without spending a lot of money or traveling far. These summertime activities specifically geared towards children and their families are numerous and right in your backyard! We at Sanford School wish you and your family a fun-filled summer.
---
Olivia Civiletti is a member of Sanford School's Class of 2017. She is currently attending Johns Hopkins University.
---