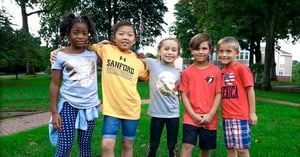 Recent events refueling the Black Lives Matter movement have some parents asking how to facilitate or deepen conversations about race with their children. As parents ourselves, we understand the importance of normalizing conversations surrounding race with our youngest learners as we all strive toward being antiracists. Research shows that children as young as three months are able to discern faces of different races, and these children look at the race of the caregiver for a longer time than other races [Kelly et al, 2005]. Children as young as two years old use race to explain behavior [Hirschfeld, 2008]. By five years old, children show many of the racial attitudes of the adults in their culture. They have already associated some groups with higher status than others [Kinzler, 2016]. It is, therefore, never too early to have direct conversations with children about race, racism, and antiracism.
Experts suggest that parents should:
Answer questions about race directly. Children are inherently curious, and when the adults in their lives dismiss or avoid questions about race or difference, they receive the message that discussions about race are not socially acceptable. Anti-bias educator, Rosetta Lee, suggests that parents and guardians straightforwardly answer questions about race without judgement. In the Virtual Town Hall,

How to Talk to Kids about Race and Racism

, by Seattle Girls' School, she also suggested that parents "have 100 one-minute conversations rather than one 100-minute conversation" when it comes to racial topics. Doing so normalizes racial conversations.

Be aware of and study personal implicit bias and stereotypes. Many books explore this topic, such as Blindspot

by Mahzarin R. Banaji and Anthony G. Greenwald,

Biased: Uncovering the Hidden Prejudice That Shapes What We See, Think, and Do

by Jennifer Eberhardt, and

Whistling Vivaldi: How Stereotypes Affect Us and What We Can Do

by Claude M. Steele.
For some parents just starting to have racial dialogue with their children, this will be the first time they have actually engaged in any type of conversation related to race. Seattle Girls' School Psychotherapist, Carolyn Carlson, states that it is "hard to do for our children what has not been done for us."
Expert Carolyn Carlson advises that parents can:
Start with educating themselves regarding their own identity and identify where they have been conditioned to avoid and minimize racial anxiety.
Lean into discomfort while also giving yourself grace as you practice engaging in conversations that are uncomfortable.
Believe in resiliency and model humility. If in this journey, parents make mistakes, then own them and move on.
Parents Can Teach Diversity through books
Use picture books to create counternarratives to go against stereotype threat in addition to using the stories as "mirrors and windows," a term coined by Emily Style for the national SEED project. A mirror is a story that reflects your own culture and helps you build your identity. A window is a resource that offers you a view into someone else's experience.
---
Kara Fontes is a Lower School reading instructor and co-chair of the English and Language Arts Department. She received her bachelor's degree from Susquehanna University and her master's degree from Boston University.
Jamy Haughey is the Director of Diversity, Equity, and Inclusion and an Upper School Science Teacher at Sanford School. She holds two B.S. degrees from Stockton University and an M.S. degree from the University of Delaware.
---
See Also: Finding Great Children's Books Starring Black Characters