From academics to athletics, teaching style to use of technology, and campus facilities to classroom culture, it's important to get to know a school before you decide if it's the right fit for your family. One of the best ways to do this is by visiting a school during an Open House.
WHAT is an Open House?
An Open House is an opportunity for multiple families to visit a school at the same time and see the full range of activities that a school offers, both in and outside of the classroom.
WHo should go to an open house?
An Open House is a family affair! Parents/guardians and prospective students are invited to attend an Open House. Typically schools treat Open House as an "all hands on deck" type of event, which means that teachers, coaches, parents, and current students will be available to talk about campus life, so bring anyone who might have questions about the school.
how long will the open house take?
There's so much to see and do at an Open House, so, if possible, arrive as soon as it begins and block off about two hours of time to visit campus locations and have conversations without feeling rushed.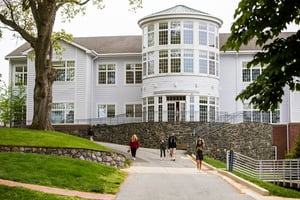 WHy attend AN OPEN HOUSE?
Being able to talk to everyone and see everything in one swoop can be a great opportunity to get a snapshot of the many pieces that contribute to the whole school. On a traditional tour or student visit day, you will only see a few of the classes, clubs, or special activities that a school offers, but at an Open House you can learn about it all!
preparing for an oPEN HOUSE?
Asking the right questions will ensure that you maximize your Open House experience. Check out this list of 35 Great Questions to Ask at an Open House to help you get ready for the next Open House that you attend! Sanford's Open House schedule is available by visiting Discover Sanford. We hope to see you soon!