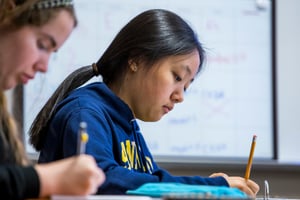 Writing college essays is a daunting task for most high school seniors and the cause of much friction between students and their parents in the middle of the college application process. Parents want to see applications completed and submitted well before admissions deadlines while students find thousands of ways to avoid writing their essays. Writing about oneself is never an easy task, but it is especially challenging for teenagers who are just beginning the process of self-reflection that insightful writing requires. These young writers are often apprehensive about putting pen to paper because they believe that their words, which will be evaluated by unknown admissions officers, will determine their college choices and their success in life.
the important role of the essay
While the college essay can play a significant role in college admissions decisions, this only happens when a student can prove that he or she is academically qualified to be successful at a particular college. At selective institutions, this means that the essay will only come into play when the transcript, test scores, and recommendations all point to a "qualified applicant." Once a selective admissions office determines that a student is "academically qualified," then they will start to dig deeper in an attempt to differentiate between qualified applicants. Non-academic factors (extracurricular achievements, leadership, service to community, character, motivation, maturity, discipline, etc.) are carefully weighed, and students rise or fall in the applicant pool according to the relative strength of their overall profiles. For academically qualified students, the college essay provides an opportunity to not only share their ability to write well but also to highlight a piece of themselves that no one else in the world could share. While it may not be what directly gets an individual that college acceptance, a well-written essay can set one apart from the general applicant population.
Is my college essay EFFECTIVE?
At Sanford, students have the opportunity to work on their college essays in both their junior and senior years. In their junior year, the composition of their first college essays comes after a year-long, in-depth study of rhetoric and the English language, providing a solid foundation for them to elucidate their true personalities and their best traits. Students practice with the Common App writing prompts, which include seven different essay topics about things like transformational life experiences and influential people, but, truly, they can write about anything— the final Common App prompt is the open-ended "share an essay on any topic of your choice. It can be one you've already written, one that responds to a different prompt, or one of your own design." Some students will use the summer to edit and fine-tune the essay they composed during junior year, and others will determine that they hate it and start all over from scratch. Senior year, they submit again to their English teachers for additional review. Admission counselors are looking for students who have written truthfully, authentically, and with organization and purpose.

Tips for writing an essay
During our most recent trip to the National Association of College Admissions Counselors (NACAC) National Conference, the "College Essay Guy," Ethan Sawyer, offered his input on how to help seniors work through the college essay process. Those recommendations can be found on his blog, College Essay Guy.
Writing a compelling essay is certainly not a simple task, but with the right tools and mindset it can be a powerful way to show your strengths, passion, and creativity. Students should have fun with the writing process and trust that their teachers want them to succeed. By showing your authentic self through your writing, and submitting drafts to your college counselor or English teacher, you can be well on your way to a unique and expressive college essay.
---
Katie Trachtenberg is the Assistant Director of College Counseling and English teacher at Sanford School, a preschool-Grade 12 independent day school in Hockessin, DE. She also graduated from Sanford in 2006. Katie received her bachelor's degree in English and Master of Business Administration from the University of Delaware.
---
See also: Applying to College: Advice for Students and Families