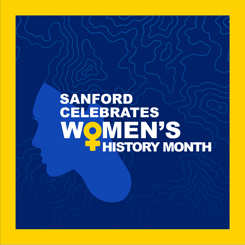 Every March, we celebrate Women's History Month. We honor women, their role in history, their accomplishments, and their futures. When Women's History Month is celebrated in school, educators can emphasize the value of women's voices and encourage all students to respect and support equality. Women's History Month is about honoring the past, but it's also about how we move into the future. How will we raise our girls to understand the value of our own voices? How will we help provide healing and give hope?
Providing Healing, Promoting Hope

The theme of Women's History Month this year is "Providing Healing, Promoting Hope." This theme is meant to honor the work of caregivers and frontline workers. Women who are medical innovators like Marie Curie, Rebecca Lee Crumpler, and Rosalind Franklin. Women who inspire and offer hope like Malala Yousafzai, Greta Thunberg, and Amanda Gorman. Women who have given hope by breaking boundaries like Dolores Huerta, Marsha P. Johnson, and Amelia Earhart. Women who are mothers, sisters, cousins, nurses, doctors, and teachers who have helped those revolutionaries and many others.
Highlight valuable contributions to society
In the Sanford Middle and Upper School, students and faculty share announcements highlighting impactful women during the community gathering at Morning Meeting. This year, women who are supreme court judges, artists, actors, poets, and athletes who have contributed their voices to American society and who have, in their own ways, changed the world have been highlighted. Learning about women and the contributions they've made to society is a valuable aspect of Women's History Month, and when we recognize women, it's important to recognize all women.
internalize themes of respect and equality

In the Lower School, teachers read biographies about prominent women in history and storybooks featuring female characters. Stories about the journeys of women like Nina Simone, Nellie Bly, and Abigail Adams help young students connect with and internalize broader themes like respect and equality. Yearlong community norms emphasize respecting one another and encourage practicing kindness to all. Classroom experiences and stories, like those featuring influential women during Women's History Month, help students practice these skills.
In honor of Women's History Month, check out some of these wonderful books by women
Books for young children
Hedy Lamarr's Double Life - Hollywood Legend and Brilliant Inventor by Laurie Wallmark, illustrated by Katy Wu
We are Water Protectors by Carole Lindstrom, illustrated by Michaela Goade
Watercress by Andrea Wang, illustrated by Jason Chin
Books for middle grades
Anne of Green Gables by L. M. Montgomery
Fast Pitch by Nic Stone
Front Desk by Kelly Yang
Books for young adults
The Poet X by Elizabeth Acevedo
Firekeeper's Daughter by Angeline Boulley
Children of Blood and Bone by Tomi Adeyemi
Books for adults (and teens!)
Pride and Prejudice by Jane Austen
Everything I Never Told You by Celeste Ng
Becoming by Michelle Obama
Everyone benefits when all voices are heard
We all have something to gain when all voices are recognized, valued, and heard. When everyone is empowered to share and feels comfortable to do so, creative, free-flowing ideas may lead to unexpected innovation and remarkable achievements. Incorporating purposeful celebration of women's contributions to society during Women's History month serves all students by reminding them daily about the importance of honoring all voices.