Authentic learning is messy, loud, and somewhat chaotic as students grapple with application of their ideas and classroom learning to solve a problem. Authentic learning is active, creative, and fun.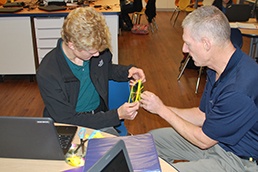 What Does Authentic Learning Look LIke?
Student teams discuss their thinking, develop and implement a plan of action, and get to work. Some plans fail, and students learn to quickly adapt their thinking and craft new solutions as they work within time constraints.
This ebb and flow of successes and failures is part of authentic learning, and students learn more from failures than successes.
Authentic learning develops critical thinkers who are collaborative problem solvers prepared to meet the demands of our dynamic global community.
How Is This Different From More Traditional Approaches?
Decades of working with adolescents have taught me that memorization of content to earn a good grade is quick, clean, easy, and usually forgotten the next day. Sadly, some parents see the good grades and celebrate their student's learning. These students are often ill-prepared to meet the challenges of the real world. Students who are focused on grades may have difficulty taking risks in the classroom. In many cases, their identity is linked to having straight A's, making first honors, or being the "smart" kid. It is difficult for many students to put this status on the line each class period by taking risks. The challenge for teachers is how to promote and reward academic risk-taking in the classroom. No one ever achieved greatness from his or her comfort zone.
Authentic learning allows students to focus on problem-solving, collaboration, learning, and the application of their ideas without the emphasis on grades or tests. Once students are freed from worrying about grades, they are more creative and flexible in their solutions—allowing them to become better problem solvers and master a deeper understanding of the material at hand.
STUDENTS HOW Can Families Help Support The "Authentic Learning" Mindset?
Parents can encourage fun learning experiences that can be completed at home:
Have fun, get messy, and learn alongside your children as they experiment with new materials and concepts. You will soon find out that the students quickly become the teachers and are excited to show you their new-found knowledge.
Sanford School integrates an authentic learning approach in the classroom. Providing these experiences allow every child to solve a problem by designing and creating preparing students for lifelong learning.
---
Jim Barnaby is the Chair of the Science Department at Sanford School, a preschool-Grade 12 private school in Hockessin Delaware.
---