The Four C's
For years the world of school was focused on the Three R's: reading, writing, and arithmetic. But in today's world it's not enough to read a book, write a story, and do a few math problems; we need to prepare our students for an ever-evolving global society. Now, education organizations around the country, including the National Education Association (NEA) are talking about the Four C's:
Critical Thinking
Communication
Collaboration
Creativity
The Fifth C: Chocolate!
In the Third Grade we tackle the Four C's and more through thematic learning. Thematic learning is when students focus on one theme that connects multiple subject areas. For example, in our Chocolate Economics unit we use the overarching theme of chocolate to bridge several content areas. Some highlights of the unit include:
Science: Investigation of the cacao bean and its rainforest habitat, including the layers of the forest, the geography and weather conditions needed to sustain a tropical rainforest, and the importance of sustainability and conservation of these areas;
Social Studies: Discussion of the history of chocolate, from the Aztecs and Mayans to the explorers who brought chocolate to various countries and continents;
Reading and Performing Arts: Reader's Theater performances—complete with costumes and music—of Charlie and the Chocolate Factory and The Great Kaypok Tree;
Economics (including research, writing, and math): Participation in the full scope of activities related to the business of chocolate-making, such as conducting market research, production of actual chocolate creations, branding & advertising via print and television, and, eventually, a Market Day where students sell their chocolate and calculate their profits, which are donated to charity organizations selected by the students.
Benefits of Thematic Teaching and Learning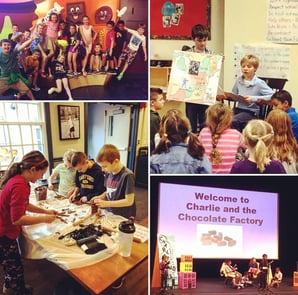 Thematic units help students develop skills for life, from the Four C's to other valuable traits like public speaking, organization, and compromise. Students are constantly engaged because they are able to see how various content areas relate to each other and to the real world beyond the classroom. In addition, theme-based learning gives every student a chance to shine because there are multiple opportunities for students to use their individual strengths to contribute to some aspect of the unit. As adults nothing we do is in isolation—we are always doing mental acrobatics to connect various parts of our lives—and thematic units help students practice this kind of thinking.
Christine DiUbaldo received a bachelor's degree in Elementary Education from Penn State University with a minor in Urban Studies, and her graduate coursework was completed at the University of Delaware. Christine's commitment to her classroom was recognized in 2014 when she was chosen as the recipient of the Sanford School Excellence in Teaching award. Christine has devoted her career to ensuring that all children enjoy learning and strive to do their very best. She understands that education is always changing, therefore she is a reflective practitioner who analyzes her craft and modifies it to meet the demands of the 21st century. Recent studies include Mindfulness Coaching, Responsive Classroom Training, and STEM Research. . Christine is currently teaching Third Grade at Sanford School, a PreK-12 college preparatory school in Hockessin, DE.
Candyce Pizzala has dedicated her 36-year career to teaching at Sanford School, sharing her love for children and passion for teaching with countless students. She embodies Sanford's mission to educate the whole child, believing character development is as important as teaching the academics. Candyce has connected with students outside of the classroom by volunteering as a coach for Girls on the Run and as a faculty advisor for the Winter Running Club, Go Girls. She has served on numerous committees over the years, including Sanford's recently-formed Educational Excellence Committee. Candyce is always open to learning about and promoting innovative teaching methods that will enhance a child's overall educational experience. Candyce is currently teaching Third Grade at Sanford School, a PreK-12 college preparatory school in Hockessin, DE.