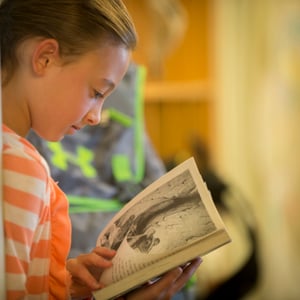 Reading is more than a valuable skill for academic and career success; it can be a door to an adventure, exposure to a new culture, or a temporary escape to another realm. At Sanford School, we encourage students to read for meaning, but also to read for joy. Here are some favorite books to read and reasons to read from Sanford's administration, faculty and staff:
"I love reading because it allows me to travel through time and across borders even when I'm in the waiting room at the dentist or curled up cozily on my couch. I love the way reading can challenge me to think about what I believe and why I believe it." For me, Edwidge Danticat offers the marriage of these two experiences in her Haitian novels, particularly my favorite, The Farming of Bones, -Brianna Smale, English Teacher, and Department Chair.
"If it is fiction, then I can taste what it might be like to travel to different places and times. If it is non-fiction, then I am able to bring meaningful input into conversations with my friends about various topics. My favorite authors are Rick Riordan and Tamora Pierce." A favorite book is The Historian by Elizabeth Kostova. -Danielle Wolanski, Upper School Latin Teacher.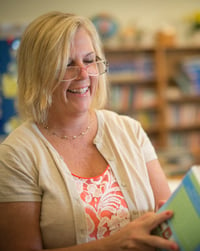 "Reading helps me relax each night. I find some of the good ol' Vonnegut satire very refreshing." Favorite authors include Kurt Vonnegut Jr., The Great Gatsby, Leonard Mlodinov (non-fiction). -Ensign Simmons, Upper School STEM, engineering and math teacher.
"I love Pat Conroy's unique view of the South, and Liane Moriarty is always a fun ride." -Janice Payne, Director of Development
Laurence Birkett, Upper School French teacher

enjoys escaping with Nicholas Sparks, biblical fiction, and author Dan Brown.
"There is nothing like getting lost in a book. I can live in a different time or place; be a different person and experience things both wonderful and horrible, all from the comforts of my couch or beach chair. If I had to pick a recent favorite it would be All the Light You Cannot See, by Anthony Doerr, The Art of Racing in the Rain by Garth Stein or The Boys in the Boat by Daniel James Brown." -Beth Kosinski, Kindergarten teacher
"I enjoy learning how others see the world. Reading opens me to what is beyond the little space that I inhabit in this universe. I especially like books based on historical events such as In The Heart of the Sea by Nathaniel Philbrick or numerous offerings by Ken Follett." -Tom Whipple, Upper School Math Teacher"
"Reading opens my eyes to new experiences and a whole new world. Reading is magical because I can use my imagination to create a picture of the story. I especially enjoy reading to others. Favorite books of mine are, The Giving Tree by Shel Silverstein, Green Eggs and Ham and The Lorax by Dr. Seuss, Midnight in the Garden of Evil by John Berendt, Da Vinci Code by Dan Brown, Miss Peregrine's Home for Peculiar Children by Ransom Riggs, The Picture of Dorian Gray by Oscar Wilde, The Book Thief by Markus Zusak, and many more." -Sandy Sutty, Upper School Librarian and Technology Integration Coordinator"
"Literature sparks my imagination, opens my mind and expands my world. Reading introduces me to hundreds of people, lets me into their lives, hearts, and heads, and takes me to so many places. Other favorite books and authors include Secret Life of Bees and The Invention of Wings by Sue Monk Kidd, East Of Eden by John Steinbeck, One Flew Over the Cuckoo's Nest by Ken Kesey, A Prayer for Owen Meany by John Irving, Malcolm Gladwell's The Outliers and anything by Anne Tyler. As a child, I loved The Boxcar Children by Gertrude Chandler Warner and The Tales of Uncle Wiggley by Howard R. Garis." -Betty O'Regan, Former Art Department Chair
"Reading takes you to another place in your mind; you can learn about anything!" Roald Dahl; Beverly Cleary; Holly Black are favorite authors from Sanford's Third Grade Team
"I love reading because it allows me to escape to other places, and imagine myself in all sorts of situations. I love how reading provides adventure and the opportunity to learn new things." Jim's favorite authors include James Patterson, Robert Crais, Stuart Woods, and Robert Parker. -Jim Barnaby, Science Teacher and Department Chair.
"I love to learn. When I read memoirs or biographies, I learn about people I admire and about their inner lives. Books about leadership and learning always find a way to my nightstand as well. When I read fiction, I like to escape and laugh; these are stories that take me to places different from my own life. History/memoir: Doris Kearns Goodwin, and Walter Issacson, David McCullough. Thought leaders: Simon Sinek, Adam Grant, Daniel Pink, and Malcom Gladwell. For fun: Elmore Leonard and Carl Hiaasen." -Mark Anderson, Head of School