We've all heard that young children learn languages much more easily than adults. But why is that? And how does it help them? It turns out that the benefits go far beyond simply language acquisition. Learning another language broadens students' worldview and confers cognitive benefits that last a lifetime, all of which equip them to thrive in the global village they will soon inherit.
Monolingualism Can Be Cured!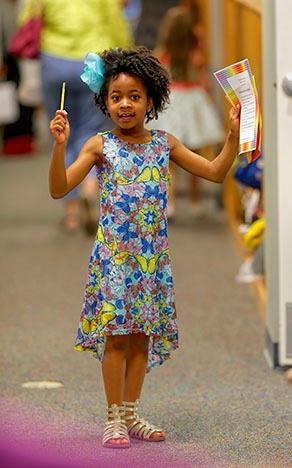 Younger learners are often referred to as "sponges," quickly absorbing phrases and tone of language. Surprising to adults, children are often able to repeat and mimic patterns in another language, helping them to develop near native-like pronunciation and intonation. This is because the young brain's synapses are still very much connected--something that begins to change as adolescence sets in. That's why the American Council of Teachers of Foreign Languages advocates that languages begin in PreK, though it's never too late to learn.
While talking comes naturally to some children, others need to feel reassured before attempting to speak in a new tongue. One goal of teaching younger children is to include all students so that they all feel comfortable taking linguistic steps. We find that music is a great tool for this. The repetition builds familiarity and predictability and--together with games, gestures, and movement--strengthens the musical part of memory. It is amazing to see how, years later, a few notes can bring back an entire song with precision!
Passport to the World
Children have a natural curiosity about learning, which is evident when they engage in learning a new language. Young learners are also generally open and accepting of people who speak other languages and come from other cultures. Since the study of languages and cultures in the early years is both social and interactive, children get a sense of how they fit into the larger world. What does this mean? For them, global citizenship starts early!
A Multi-vitamin for the Brain
World language education has many cognitive benefits, as well. Studies have shown repeatedly that learning another language strengthens critical thinking skills, creativity, and flexibility of thought in young children. Students who are learning languages out-score their non-foreign language learning peers in the verbal and math sections of standardized tests. This relationship between world language study and increased mathematical skill development, especially in the area of problem solving, supports that learning languages is more than meets the eye. Because world language instruction provides young children with better cognitive flexibility and creative thinking skills, it offers curious students the intellectual and developmental challenges they need and desire. This is why learning a language is much more than decoding and why, as they progress, we ready our learners to begin creating with the language, not simply use a translator tool. Indeed, language is like a multi-vitamin for the brain!
Beginning to activate the young brain beyond one's first language will help pave the way for future study of other world languages. Learning a third or fourth language often comes more easily than the second! That's why at Sanford School, we start exposing our students to different world languages beginning in PreK. Team that up with the aforementioned reasons for early world language instruction, and you know why we love seeing young learners grow in confidence, cognitive and linguistic ability, and the solid start to lifelong learning!
Jennifer McKay, M.A., is Chair of World Languages at Sanford School in Hockessin, Delaware.