Back-to-School Checklist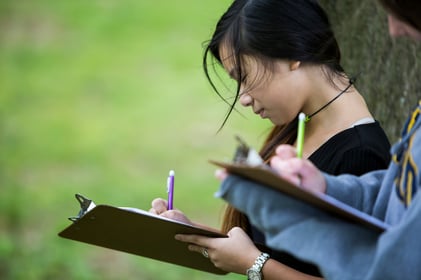 New shoes, sharp pencils, and fresh starts: the beginning of the school year offers students the opportunity to improve study habits, forge new relationships, and acquire new skills. It is a time of immense potential for discovery. As such, it is very important to hit the ground running. Not only does conscientious preparation enable a student to capitalize on this fresh start and avoid playing catch up for the rest of the year, but it also minimizes the back-to-school dread and angst some students experience.
Here is a checklist that can help to make this preparation easy and painless.
Buy Books
Purchasing the upcoming year's textbooks is obviously crucial to a student's success in school. It is every child's nightmare to show up to school already nervous only to realize that they don't even have the right materials to succeed. This is a very simple task to accomplish early as there tend to be emails to parents or links on a school's website regarding the purchasing of textbooks.
Do Summer Reading
One sure way to win a teacher's approval and ease the transition from summer to school is to make sure all of a student's summer work is completed. Just check your summer work syllabus to make sure you have all of the work complete for the appropriate class before school starts and it will undoubtedly take a load off of your mind.
Go Back to school shopping
This should be done at least a week or two before the first day of school to ensure that you can get everything you will require. Though this can seem like a daunting task, it is not as hard as it appears and the challenge of getting everything a student needs for the school year can be eased by making a shopping list before heading out to stores.
Clothes
Though this does not mean buying a completely new wardrobe, it never hurts to get a few basics that comply to your school's dress code or uniform. A yearly appraisal of dress-code friendly items allows you to see where your wardrobe may be lacking.
Get a haircut
New year, new trim. Whether you get a minor trim or a new do, this helps signify a change in your mindset and schedule with the new school year. Remember, yearbook photos can be taken as early as the first day of school, so you want to look fresh!
Read Course Descriptions
Getting familiar with this year's upcoming classes is a great way to minimize first-day jitters, especially since most course descriptions are written by the teachers who will be teaching them. This is a great way to get an accurate feel for what the class will be like. It is always nice to know what to expect from a class and what the teacher will be expecting from you. These descriptions can be found in a curriculum guide on your school's website.
Organize
With your school supplies all checked off your list, it is time to get organized. This commonly forgotten step is very important in a student's ability to start the school year off running instead of playing catch up. Take off the binder labels, remove the tag from the pencil case and start filling them up. Get the binders stocked with loose-leaf paper and dividers and the pencil case with all the writing utensils your heart desires. Continue preparing until you find that all you're missing is some teachers to give you homework to do.
Get in Touch With Classmates
It is almost time for school so start reconnecting with your school friends if you haven't already done so. This will make the in-school reunion highly anticipated on both sides. Talking to friends before school about how they are getting ready is an added bonus to this reconnection as they might have a trick that you hadn't thought of.
Have a Labor Day Last Hurrah
You have done all the preparation you can making this the least stressful September you can remember. Now it is time to commemorate the end of your three-month long bliss. Make a bonfire, set off some fireworks, have a picnic with friends. This is your time to relax and remember all of the great summer memories you have made. Who said the preparation had to be all work?
While starting the school year fresh seems daunting, it is a wonderful opportunity for self-improvement and discovery. With a full understanding of what to expect from school and what school expects from each student, the transition becomes easy, enjoyable, and anticipated from year to year.
Olivia Civiletti is a member of Sanford School's Class of 2017. She will attend Johns Hopkins University beginning in September 2017.