Who likes to do homework? We all have work that we need to take home in different forms, but it helps us to prepare for our next day, week, or month. Most students have nightly work, preparations for projects or tests, which is designed to prepare children with the necessary skills to succeed at various levels of educational development. Daily homework should reinforce skills learned in the classroom and preparing for tests/projects should require time to plan and work.
Each student is a unique individual, and how and when he or she works needs to be specific to them. What may work for your first child may not work best for your second child. Plan, plan, plan and be sure to have a good home-and-school partnership to ensure success for each of your children.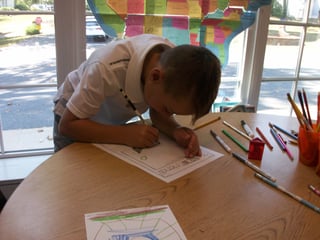 Here are a few quick tips on how parents can help with homework:
Provide a quiet, distraction free work area such as a desk or table with good lighting and no distractions.
Routine time to work—it's a good idea to schedule a similar time each day to do work so each child gets into a routine.
Help your child create a homework plan each night—if you know that one night is busier than others, help your student plan out how to get the work completed and/or work ahead for the next busy night. A visual calendar helps with this organization skill.
Parent-teacher partnership—know the expectations of your child's teachers so you can help reinforce those expectations at home.
Have the student do his or her own work—let's face it, you've already completed the grade your child is currently enrolled in, so it is his or her turn to learn and do the work on their own.
Role model

—

if your child is working, you can be working too. You can be prepping for dinner, balancing your checkbook or completing any other adult work you may have. This sets a great example of good work ethic for your child.
If there your child has problems completing the work, be sure to write a note to the teacher letting them know the circumstances so they can work it out with the student. You are only the messenger here not the problem solver.
If guidelines for homework are put in place in the early school years specific to each student, they will carry your child for a lifetime of work and thus lead them into the real world of work, otherwise known as "adulting". Good routines can establish a lifetime of great work habits.
See also: Finding Character Education Programs in School
Suzanne Humphreys is the Director of Counseling of Sanford School in Hockessin, DE.