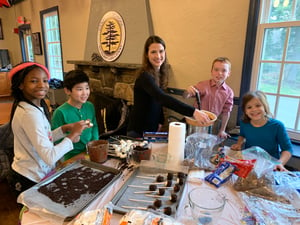 When looking for educational options for your child, it is important to select schools that not only provide a quality education but also welcome parent volunteerism. Look for options that meet your own schedule, whether you are working outside the home or are available during the school day. Schools should share their expectations of parents, as well as opportunities for them to become involved.
Students Are More Likeley To Be Successful
Research collected over the past decade by the National Education Association on parent involvement found that, regardless of family income or background, students with involved parents are more likely to:
Earn better grades
Score higher on tests
Pass their classes
Enroll in higher-level programs
Attend school regularly
Have better social skills
Show improved behavior
Be more positive in their attitude toward school
Complete homework assignments
Graduate and continue their education
Student achievement is boosted when parents can talk to their student about what is taking place in their classroom. Seeing that their parents are invested in their education creates an atmosphere where education is a priority. Expectations that the student will achieve educationally, as well as in extracurricular activities are reinforced through parent involvement.
HOme And School Partnerships Work
When schools build partnerships with families that respond to parent concerns and honor the parent's contributions, they are able to create the relationships that improve student achievement. In addition, faculty and the school receive significant benefits from parent involvement in the school.
Schools that have higher percentages of parents volunteering see the following results:
Higher teacher morale
Greater respect for the teaching profession
Better understand parent abilities and time
Appreciation for family cultures and diversity
Overall higher quality programs
Every parent has something to offer. Find a way to share your talents and skills in a way that will benefit your child's school and you will also strengthen the student and faculty.
---
Janice Payne is the Director of Development at Sanford School in Hockessin, Delaware.
---