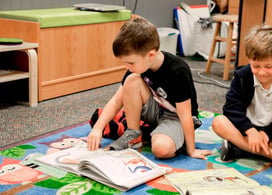 As the school year comes to a close and the end-of-school events fill every waking hour, it can be easy to forget what lies ahead. While the children are getting more and more excited to have three months with no obligations, the parents see the inherent danger in the situation: the kids will be joyous for the first two hours of their newfound freedom and lamenting about their boredom for the rest of the time. Rest assured, this parental dread of summer is not uncommon or unrectifiable. It is a simple matter of planning things for your children to do. To the parents who want to avoid three months of television watching for their children, fear not; here are a few programs to help keep your child engaged over the summer.
Community Programs
On Fridays throughout the summer, the Delaware Museum of Art offers a "Glory of Stories" event in which children ages two and older can go and be read a book, tour some art relevant to the story, then complete an art project. This is a great time for your child to explore creatively, be exposed to all kinds of professional art, then create some art of their own. This fun Friday activity is an awesome weekly opportunity to get out of the house and seek different cultures close to home.
To a child looking to try something new, Wellspring Farm holds a summer riding camp from June 12th through August 14th for all children 6-13 even remotely interested in dabbling in this craft. The children will do things such as receive basic riding instruction, work on their balance, learn about the anatomy of horses and how to care for them, play games, and do crafts. This program teaches children how to be safe with a large animal and bond with their peers and the horses. The week is concluded with a horse show for the children's family and friends. The children do not have to have any experience riding to participate and will be mentored by the older riders who have more practice and wisdom.
From June 31st through August 4th, the Brandywine River Museum of Art has a camp that offers children ages 9-14 the opportunity to explore their interests in both nature and art. The camp emphasizes exposing the parallels between the beauty of the outdoors and the beauty of painting. They will observe patterns in nature and try to mimic them in the artwork of their own. This is an opportunity for intellectual, personal, and social growth and offers opportunities to be exposed to the artwork at the museum.
For children who love the outdoors, are never out of energy, and are curious about the world around them, the Delaware Museum of Natural History offers week-long programs all throughout the summer to capture every child's imagination and interest. There are programs for children finishing pre-K through sixth grade (also offering camps for children under three) and even provide extended care if needed. These camps cater to the needs of every age group and focus on areas from "The Science of Minecraft," "Adventures in Nature," and "Shark Camp" to "Young Engineers," "Camp Olympus," and "Super Silly Science".
School Programs
More great options for your child in terms of summer programs can be found at your local elementary, middle, or high school such as the programs available at institutions like Sanford School. Sanford's Summer Programs provide many activities for your child on campus such as sports, art, and dance camps for children of all ages and skill levels. They also offer on-campus summer school for a child seeking more intellectual pursuits in areas such as creative writing, waterbotics, and visual art. These are excellent opportunities for your child to continue his or her pattern of learning even when the school year ends.
Summer Reading PRograms
Reading throughout the summer is also important. Encourage children to read by taking the time to read during the day, making visits to the library to check out books, or by joining summer reading programs in your local area. For more information on summer reading programs and resources for finding a great book, check out the summer reading resources listed below:
Whether anticipated or dreaded, summer can be unpredictable. But with a little pre-summer planning, parents can go from dreading the oncoming three-month void to relishing the fact that their children are having exciting and beneficial experiences that will keep the summer blues and boredom away.
---
Olivia Civiletti is a member of Sanford School's Class of 2017. She currently attends Johns Hopkins University.
---
See also: What Should My Child Read this Summer? and Finding the Right Summer Enrichment Program