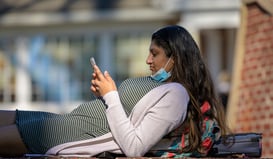 Technology is a big part of life today, especially given that many students are spending at least some portion of the school year doing remote learning, as well as connecting with friends and family over social media. In the past, the goal was to keep screen time under two hours per day, but in 2015 the American Academy of Pediatrics (AAP) media recommendations were updated to be less focused on a specific number and more focused on having balance. Below we walk through the six steps that the AAP encourages families to take to support the development of healthy media behaviors.
#1 Think About Time and Type
While there isn't a set two-hour recommendation any longer, that doesn't mean that kids should spend all day every day looking at screens. Your family should set your own limits about both how much and what kind of screen time kids are allowed to have. For example, you may have different limits based on whether your child is video chatting with a grandparent, watching a movie, or playing math games.
#2 Keep It Moving
Make sure that screen time doesn't take the place of physical activity. Children should aim for a minimum of 60 minutes of active time and should also try to move around a little bit–at least once every hour–during the times when they're sitting down to do school work. You could even combine screen time and fitness by doing a virtual exercise class. Check out this article from The New York Times, which highlights offerings that are especially created for kids.
#3 Remember kids Need A Good Night's Sleep
In addition to getting enough sleep (8–12 hours, based on age) it's also important to have good sleep hygiene, which means building routines that lead to a more restful night of sleep. Some tips to consider include turning off devices an hour before bedtime and not having any devices in the room while kids are trying to sleep.
#4 It's Time To Hit the Books
While Zoom meetings, online research, and educational apps may be necessary for schoolwork, kids should avoid "entertainment media," like playing cell phone games, during homework time.
#5 Build In Screen-Free Family Fun
Instead of just saying "no screen time," replace the technology with fun family activities that are naturally tech-free. For example, start a family book club. You can schedule a time for everyone to sit down and read, as well as a meeting for you to discuss your thoughts on the book. Here's a list of 40 Great Questions to get the conversation going.
#6 Make It a Team Effort
Share your technology plans with people close to you, like grandparents and babysitters, so that everyone is on the same page about how you'd like for your family to approach screen time. It might even be fun to join forces with a couple of other families so that your kids have friends who are also working to make healthy decisions about screen time.
At Sanford, we understand the benefits of technology and the importance of balancing schoolwork during both online and offline learning. It is important to keep these six AAP recommendations in mind and to create a safe and reliable virtual learning environment to help ensure that your child gets an early start on building a healthy relationship with technology. Our school counselors and nurses work with our parents to provide support for their child's well-being.
See Also: Creating a Safe & Reliable Environment for Virtual Learning for Your Child, 4 Ways For Keeping Your Child Safe in a Digital World
---
Jennifer Conway, BSN, RN, is a mother of three and is the school nurse at Sanford School in Hockessin, Delaware. She graduated from the University of Delaware.
Andrea Winner, BSN, RN, is a school nurse at Sanford and has three children who attend Sanford School. She graduated from the University of Delaware.
---