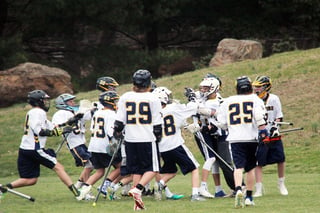 Over the last twenty years working with Middle School athletes, I have learned the value of keeping kids active and instilling the importance of lifetime sports at a young age. Often, the lessons learned off the field are greater than the skills and strategies of the game. Many times, these life lessons are so much more impactful than just reaping the benefits of exercise.
For many student-athletes, trying a new sport in Middle School can be a daunting task; some players have played for years while other student-athletes participate in a sport for the very first time. Regardless of experience, participation in sports teaches children how to:
Connect with other students on and off the field
Try something new—branching out to try a new sport
Become resilient—success does not happen overnight
Manage time—balance homework, sports practice, and family obligations
Learn good sportsmanship—how to win and lose with grace
Be positive—how to be a better player and a better teammate.
At Sanford School, interscholastic sports begin in seventh grade with a three-season participation policy for seventh and eighth graders. The school day schedule is designed for students to have these experiences whether they choose a lifetime sports offering or a team sport. All students benefit from the daily exercise and interaction with teammates, but most importantly, they have fun!
---
Shannon Helmecki is Chair of the Physical Education and Health program and instructor at Sanford School in Hockessin, DE. She received her Bachelor of Science in Health and Physical Education from East Stroudsburg University and M.Ed in Health Education from West Chester University.
---
See also: Modeling Good Sportsmanship