Over the last few years, it seems every book about leadership, education, or personal development mentions Stanford professor Carol Dweck and her theory of Growth Mindset. Essentially, "in growth mindset, people believe that their most basic abilities can be developed through dedication and hard work – brains and talent are just the starting point. This view creates a love of learning and a resilience that is essential for great accomplishment."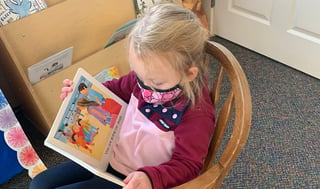 In other words, people are always improving and learning. This is an important value for schools to remember and put into practice. Children, our students, come to us as works in progress. They are growing, developing and learning at their own unique pace. It is up to us as educators to meet them where they are and help them be the best versions of themselves—helping them to rise to the challenges in the classroom, learn from their missteps and celebrate their successes.
Fixed Mindset
I recently learned about a school that separates its homeroom classes based on standardized test scores. This is the ultimate "fixed" mindset —one group is smart and the other not so much or at least labeled in this way at this particular school. I imagine this mindset must creep into the psyche of these children. Which group do you think will work harder? Which students do you think enjoy coming to school each day?
Growth Mindset
In a growth mindset school, like Sanford, all students should see themselves as skilled and capable. Perhaps their talents are developing in certain areas, but "I can't…" or "I'm not good at…" is not part of the lexicon. Some may need more time to master skills and content, but with master teachers at the ready to encourage and reinforce, students find their own personal success.
Ways Schools Can Use Growth Mindset
Offering

No Cut

policies with athletics and an athletic requirement that sends the message that you

can

and

will

be on a team.

Providing multiple levels of core courses

– regular, honors, and Advanced Placement, with significant student and parent input as to what is the right level for a student. Class placement is not based on a placement test but on the students' desire to challenge themselves.

Creating a cult

ure where students celebrate one another's success. This is a culture where students do not feel threatened by a fellow student's success.

Asking for feedback

—

how is the school doing? How can the school be better? This candid feedback is essential. Just as important

—

the school should listen. Just like we expect students to take our feedback and learn from it, we as educators should be learning and growing.

Ensuring that students know that the

ir process is as valuable as their product. They should not be judged on their standardized test scores or raw aptitude, but on their work and on how they persevere through the learning process.
The core of Sanford's culture is growth—in our students as well as our educators. Hard work, effort, persistence, and a positive attitude are valued and encouraged. These elements of student success are timeless. This is where good teaching and learning stem from and what parents should expect to see in their child's school.
---
Mark Anderson is the Head of Sanford School. Mark and his family moved to Delaware in 2011 when he assumed the headship at Sanford. He received his bachelor's in Elementary Education from the University of Missouri and earned his M.A. in Educational Leadership from Maryville University.
---
Additional resources:
Carol Dweck Revisits the 'Growth Mindset'
Mindset, The New Psychology of Success, by Carol S. Dweck