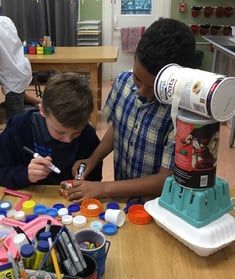 When students come to art they may think they're going to learn to draw or paint, but by the end of each class they have done so much more than skill-building. While we certainly do teach children about the different tools and techniques that they can use to express themselves artistically, we also encourage risk-taking, develop problem-solving skills, and build their self-confidence. And there is no better time to see students displaying all of these traits than during an Open Studio session.
what is open studio?
Open Studio is a time for students to explore the skills they've learned in a supportive context. We provide students with a list of open-ended activities and a variety of supplies that they can use to accomplish their chosen task. For example, if a student chose to create a bedroom for a guinea pig, we would help them think about what items would be in the room and what materials they might use to both build and decorate each feature. This planning time begins the problem-solving aspect of the artwork. Students have to take thoughtful risks and try multiple options until they create a piece that satisfies their personal goals. Throughout the decision-making process, we help students find the strengths in their ideas, so that they consistently increase their confidence in their artistic abilities even as they modify and improve their creations. At the end of each Open Studio, students share about the different projects in progress and we have a class discussion about what strategies worked well, what was challenging, and how they tackled any problems that arose.
OPEN STUDIO in action: african mask project
At Sanford, our first graders get a lot of Open Studio time while undertaking their African masks project. This is a project in which the student's design and build paper mache masks inspired by the traditional masks from various African cultures. We teach them to consider how their decisions about the size, shape, and placement of each facial feature will make each mask unique. During Open Studio children explore selections of repurposed items, such as spoons, buttons, or pinecones, that can be used for facial features. We teach students to build an armature (the underlying structure for the paper mache masks) and how to attach pieces to the sculpture, then give then time in Open Studio to practice creating armatures and attachments for other projects that they choose. By the end of the unit, the combination of teacher-directed lessons with the exploratory freedom of Open Studio leads to masks that are a celebration of African culture, personal expression, and the growth of each child's artistic skills.

how open studio benefits all learning
Being able to learn a skill in class and then both practice and expand upon it during Open Studio means that students will feel safe asking questions, trying new things, and using art to share their thoughts and feelings with others. When children are given the autonomy to take control of their learning it changes the way they think about art and about their own abilities and gives them the confidence to build skills like brainstorming, organization, reflection, and flexibility that they will use both in and outside of the art studio.
See Also: An Art Curriculum for Life, Art Makes Kids Smart
---
A 41-year veteran of teaching, Betty O'Regan was an art instructor and department chair at Sanford for 38 years. Over that time she taught Kindergarten through 12th-grade students and had the pleasure of teaching many of the children of her previous students, and even having some former students as colleagues! Recognized as Delaware's Art Teacher of the Year in 2002, Betty received a grant to study Aboriginal art in Australia, presented at several national conventions, and published articles in SchoolArts and Scholastic Art magazines. She embraces life-long learning, continuing her education through various courses, immersion programs, conferences, and travel, as well as remaining a practicing artist.
Recipient of the 2010 Middle School Art Educator of the Year Delaware Award, former Treasurer for the Delaware Art Educators Association, and 2016 recipient of the Donovan Award for professional development, Nina Silverman-Weeks has devoted the past 27 years to the "art of teaching." Inherently curious, she recently became a certified Delaware Naturalist. An award-winning mixed media artist and photographer, Nina continually examines and explores ideas to combine traditional and non-traditional art materials in alternative ways. In addition, she has presented her writings on P Principles: Transferable Skills & Habits for Lifelong Learning several times regionally and is awaiting a forthcoming article in SchoolArts. While Nina is a proud alum of Temple University Tyler School of Art, University of the Arts, and Moore College of Art & Design, she thinks that the best education she has received has been from her students and colleagues at Sanford School.
---