"She feels so well prepared. Her adjustment has been easier than her peers."
These are the words private school educators love to hear—that one of our graduates has made a smooth transition to college, and we have prepared her well for this next step.
As a private school graduate myself, I credit my alma mater with instilling me with confidence, empathy for others and a strong academic foundation. I found myself prepared for college with a strong desire to be involved. I embraced the opportunity to join groups of completely different people in order to follow my own diverse passions—the dance team, a psychology research team, and the student admission group. After all, this is how I learned to go to school—become involved, take advantage of opportunities and excel in many areas.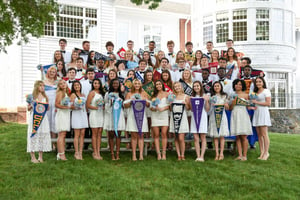 These stories are not uncommon in private schools. The National Association of Independent Schools has conducted several studies about graduates' preparedness for college and the working world.
Graduates from NAIS member schools:
Score higher on the SAT than their counterparts
Rate themselves as better prepared and able to adjust to college academic life.
Have more confidence in their abilities to write, speak publicly and work with a diverse group of colleagues—important skills for the working world.
When considering the cost of private schools, it is important to have a candid conversation about tuition up front. When working with families who are nervous about whether they can afford the tuition, I encourage them to apply for financial aid. Private school administrators understand the sacrifices families make to give their children the best education possible. We want to help make the education we offer a reality for families who are a good fit for our schools. Often 25-40% of students receive some level of need-based financial aid. This support ranges from a few thousand dollars to approximately ninety-five percent of the full tuition.
Private schools offer the best environment for students' academic and social development. On our campuses, students thrive as they build confidence to take the healthy risks necessary to become successful young adults. Private school families come from diverse socioeconomic backgrounds. Ask the schools you are considering what type of financial assistance might be available to your family. You may be pleasantly surprised that private school financial aid is more abundant than you think... and that private school education is within your reach.
Sanford School works closely with families to make tuition affordable. Discover Sanford and learn more about affordability programs during a personal tour that fits in your schedule. Please contact our Admission team at admission@sanfordschool.org.
---
Jaime L. Morgan '02 is Associate Head of School for Advancement at Sanford School, a preschool-Grade 12 College Preparatory School in Hockessin, Delaware.
---
See Also: Learn About Financial Aid & Affordability Options for Private Schools, Taking the Fear Out of Private Schools