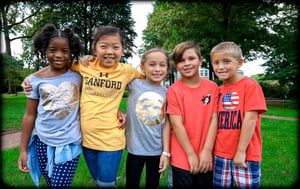 If you love the advantages a private school offers but you're afraid of the high price tag, Sanford School can help allay your fear. During the past decade, there has been a national shift in the income ranges of families applying for help with tuition costs. At Sanford School, a preschool through grade 12 private school, more than 50% of students receive some form of tuition assistance. The two most common types are need-based financial assistance and merit scholarships.
Need-based Financial Assistance
Need-based financial assistance is based on a family's income, expenses, and other factors. The common misconception with need-based assistance is that only families with low-income ranges will qualify. This simply is not true. Families with incomes of $200,000 and higher are qualifying for financial aid, particularly if they have multiple children.
Merit Scholarships
Merit scholarships are awarded to Kindergarten Scholars, Honors Scholars in middle school, and Leadership Scholars and Sanford Scholars in high school. The awards are based on students' academic success, leadership, citizenship, passion for learning, and potential contributions to the life of the school community.
Discover more about Sanford School
Sanford School is committed to building a robust, diverse student body. Research shows that children learn best when surrounded by other students who will learn alongside them and challenge their thinking. Sanford's exceptional educators lead students on a journey to express themselves, challenge themselves, and, ultimately, to be themselves. Discover Sanford and learn more about affordability programs during a personal tour that fits in your schedule. Please contact our Admission team at admission@sanfordschool.org.
---
Jaime L. Morgan '02 is the Director of Admission and Financial Aid at Sanford School, a preschool-Grade 12 College Preparatory School in Hockessin, Delaware.