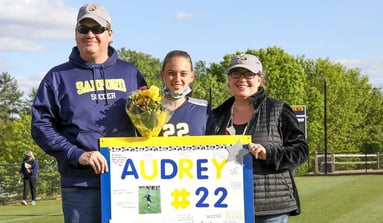 How do you keep a school community strong in a school year caught between virtual, hybrid, and in-person learning? It starts with school leaders and parents who have a shared vision of success. Your support and participation make a difference. Whether you choose to engage on a personal, informal, or formal level, here are a few opportunities to stay engaged in your school community during the pandemic.
Stay connected
Your student's social-emotional learning is as important as the academic piece. Extracurricular activities like Zoom storytimes, a GooseChase scavenger hunt for families, and movie nights using Teleparty can bring your community together, whether in-person or virtual. Teachers use community pages to share news, photos, and important information as a powerful communication tool. The school information system shows your child's progress, so you can keep abreast of their work. Make sure to consistently check it and carefully read through comments from teachers on their assignments and reports to help your student succeed. Discuss any concerns with your child and communicate these with their teacher and advisor. Keeping a strong parent-teacher relationship is essential.
Get involved
with the parents' organization
The goal is to strengthen parent-to-school and parent-to-parent relationships through communication and involvement. Learn more about the school while giving your time and talent to its community. Every school needs parent volunteers to help organize and plan educational and social events as well as fund-raisers, whether they are virtual or in-person. Would you like to help welcome new families, run a silent auction, or sell plants or support other fundraising ideas? If you have the time to meet online, design emails, make phone calls, serve as a homeroom/grade representative or an elected officer—then sign up to help!
Make new friends
Many parents get involved as a way to meet other parents when their children are very young. Whether it's Zoom coffee breaks, outdoor playdates, or virtual birthday parties, there are informal ways to help your child stay connected. As your student reaches middle school and above, inevitably, they may ask you to keep your distance. You can stay involved, but let them make their own plans. This pattern is part of their desire to grow up and establish their own boundaries.
Mark your calendars
The end of the year is filled with events. Make sure to mark them down on your calendar so you don't miss them. Given recent updates to COVID guidelines in many states, there are some significant adjustments to end-of-year ceremonies that may enable you to attend limited gatherings. Take this opportunity to be able to see these important events in your child's life.
Even in a pandemic, providing input to your school's faculty and staff and getting involved can make a difference. The Sanford community has been and continues to be focused on providing students with an excellent educational experience. Our Board of Trustees is dedicated to ensuring that Sanford remains a leader among private schools. Armed with our mission, guiding principles, strategic plan, and phenomenal faculty and staff, school leaders are prepared to help Sanford reach new heights.
See Also: Parent Involvement For Working Families, Private Schools Build A Strong Sense of Community, Parent Involvement In School Improves Your Child's Educational Experience
---
Laura Gaylor is a Development Associate at Sanford School, where she has held various support roles in her 14 years of service. Presently, she is the school liaison for Sanford's Home & School Association, working closely with the executive team of Home & School and grade level representatives to further parent-to-school and parent-to-parent relationships. Prior to her work at Sanford, she was a passionate volunteer and fundraiser for her children's schools, churches, and the American Cancer Society. Her background in the hospitality, retail and chemical industries, along with her studies at the University of South Carolina, lends itself to her relationship nurturing and building skills.
---