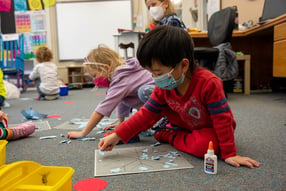 When a child turns five it's time to start kindergarten, but many parents are looking for opportunities that start even earlier. When exploring various programs, some parents may be torn between choosing a daycare setting or a school-based early childhood program. At Sanford we believe there is a tangible difference between a Preschool and/or PreKindergarten classroom and a daycare center. Below we will make the CASE that participating in a formal early childhood program benefits families in four main areas: Community, Attention, Specials, and Education.

Community
While daycare provides flexibility, allowing parents to drop off their children for however many hours per day and days per week are needed, a child's classmates may change from day to day or even from the morning to the afternoon. An early childhood program, on the other hand, provides consistency that allows children to build strong relationships with their peers. In addition, parents can also connect with the community in deeper ways through classroom and school-wide events that build bridges between home and school. In fact, at Sanford, there is a parent-led Home & School Association whose sole purpose is to promote parent-to-parent and parent-to-school relationships.

Attention
The small class sizes and low student-teacher ratios of a strong early childhood program allow your child to have consistent small-group and even one-on-one attention throughout the day. In addition to supporting academic growth, the close-knit environment will give your child the chance to be fully known by their teachers and their peers.
Specials

Another benefit of formal early childhood programming is the opportunity for students to regularly participate in a wide range of "specials," or classes that happen outside of the homeroom environment. As you can see from our Lower School curriculum page, Sanford's Preschool and PreKindergarten students engage in computers & technology, health & physical education, library, performing arts, and world languages, in addition to the reading, math, science, and social studies lessons that take place in the homeroom. Exposing children to a variety of curricular offerings helps Sanford students to develop into well-rounded people and acquire interests that they may continue into middle school, high school and beyond.
Education
A strong early foundation lays the groundwork for the rigorous yet joyful learning that Sanford students do in elementary school and onward in their school careers. Our cohort of teachers have both training and experience as early educators, and this allows them to create engaging and challenging curricular units, while still differentiating to meet the needs of each individual student.

Hopefully, the information above has begun to make the CASE for the myriad of benefits that children can receive by being enrolled in a school-based early childhood program. To learn more about the opportunities available at Sanford and to see our early childhood classrooms in action, contact our Admissions Office to schedule a campus tour.