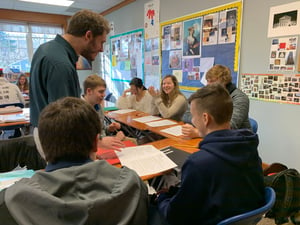 The National Council for History Education describes twelve practices that make up what they term History's Habits of Mind, which are the skills that students develop when they are deeply engaged in rigorous history learning. While all of the skills are valuable, there is one that seems especially relevant during Black History Month: Utilizing multiple perspectives for comprehensive explanations. Incorporate this skill in the classroom by:
Integrating multiple perspectives into the curriculum
During the month of February, we are reminded of the importance of acknowledging the many ways that Black men and women have impacted history. Many of our history courses have units dedicated to the exploration of Black culture and history. For instance, in AP Art History class, students will both examine traditions and trends in 18th to 19th-century African tribal art and look at examples of Black voices in modern art, including Jacob Lawrence, Kara Walker, El Anatsui, and Faith Ringgold. In addition, The History of the Other is an entire elective course built around providing students opportunities to discuss periods in history from the perspective of various marginalized groups.
Teaching global citizenship
Classes like these highlight Sanford's aim to use every day of class—not just the ones in February—to mold our students into global citizens who both understand and appreciate the experiences of people from other countries, cultures, and time periods. We build that historical foundation by requiring our ninth and tenth graders to spend the first two years of high school studying World Civilizations. During this class, students examine primary sources, including written works, art, architecture, dress, and religious beliefs to explore the political, economic, and social events that have defined our world from early civilization to the present day. As a pair of survey courses spanning thousands of years, the rise and fall of various civilizations are examined for similarities and differences as well as links to our modern times.
connecting students to the past
Our students start their high school journey by considering the historical context of civilizations all over the world, and we hope that this lays the groundwork for an academic experience that continually focuses on the ways that our world is interconnected. Understanding the importance of the past and how it affects the future is an essential skill for interpreting others' perspectives in a diverse society. Students learn to have empathy and compassion for others.
In honor of Black History Month, we hope you'll enjoy three recommendations for middle and upper school books that celebrate the perspectives of Black men and women who contributed to American history.
---
Todd Helmecki is the History & Global Studies Co-chair and teaches in the Upper School History department. He received his bachelor's degree in Business Administration from Bryant University and his master's degree in World History from West Chester University.
Alex Levine teaches Upper School History. He graduated from the University of St. Andrews in Scotland in 2013 with a Master of Arts degree in Art History and German, and from the University of Glasgow, also in Scotland, in 2015, with a Master of Letters degree in Technical Art History.
Anna Littlefield graduated from the Commonwealth Honors College at the University of Massachusetts, Amherst, with a degree in history. She is an Upper School History Instructor.
Eric Peoples is an Upper School History instructor and Co-Director of Sanford Summer Programs. He earned his bachelor's degree in Secondary Education from Clemson University and received his master's degree from Villanova in Education.
Mark Shields teaches in the Upper School History Department. He received his bachelor's degree in Business Managment from U.S. Naval Academy and his master's degree in History from Temple University.
Scott Swope is the History & Global Studies Co-chair, teaches Middle School History, and Global Studies and is the Co-Director of Sanford Summer Programs. He received his bachelor's degree in History/Secondary Education from Albright College and his master's degree from The Pennsylvania State University in Educational Leadership.
---
See Also: Finding Great Children's Books Starring Black Characters, 4 Ways Diverse Schools Benefits Kids