When families are searching for schools for their children, they often look for the right "feel" of the school asking questions like: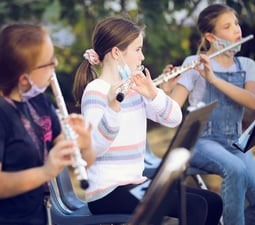 Does this school offer a balanced curriculum?
Do the students and faculty look engaged and happy as they go about their day?
What experiences are available to students?
Will my children, and my family, feel like they belong?
Tuning into Sanford's performing arts program will provide you with insight into each of these questions. Not only does a strong performing arts curriculum offer balance to a robust academic environment, but it also offers a chance for children to be creative, expressive, and learn about different cultures and backgrounds. Performing arts are essential to a well-rounded education.
Is this the right school for my child? Will they be excited to go to school?
Take a peek at what our parents are saying about the impact of the performing arts on their child's Sanford experience.
"They come home singing the songs they've learned. I've noticed that since coming to Sanford, my son has become more interested in playing instruments. We hope that this will be the start of a lifelong love of music."
"Performing arts at Sanford has inspired my daughter to learn multiple instruments and has helped her become a more well-rounded individual."
"My daughter has such joy when attending music class even at an early age. Her excitement and passion when learning new music and the drive she has to practice at home are unmatched. She sings the Alma Mater with great pride in her school. It's her new favorite song!"

Will my child have the opportunity to experience various performance groups? What if my child wants to be involved, but not on stage?
We offer several ensemble options at Sanford. We want our students to have the freedom to explore as many options as they wish. Choir and band are two examples of ensembles offered at Sanford. These two classes never occur simultaneously, allowing students to participate in both ensembles during the school day.

At Sanford, we encourage students to step out of their comfort zone and try new things. This doesn't always mean singing on stage, auditioning for the musical, or joining an ensemble. We offer several electives that are project-based, group-led discussion, and just as valuable as a performance ensemble experience.

Students in grades 9-12 are also able to be a part of the stage crew for the Sanford Repertory Theatre Company (SRTC) Fall Play and Winter Musical, where they build the sets, create props, paint, assemble costumes, run the sound and lightboard, and work as a team. Additionally, students can earn a co-curricular credit during the fall and winter sports seasons if they participate in stage crew.
"Being involved in stage crew has been such an important aspect of [my child's] high school experience. It has provided them an outlet to do things that they love the most… design and build, problem solve, work the booth and the technology involved, and execute a seamless show that allows the stage actors to shine. The collaboration, teamwork, and community involved in theater and specifically SRTC at Sanford have literally shaped [my child] into the confident young adult that they are today."

How does the school involve parents in the life of the community?
Reflections from Sanford parents describe the cohesive role that the Performing Arts program plays in bringing the community together:
"My memories of my son performing in the musical in SRTC in front of many of our invited family and friends are some of my favorite Sanford memories. I also felt a real sense of community at Sanford during the SRTC musical rehearsals (with parents and teachers and students working so hard toward that big goal, and especially the collective relief and celebration of a job well-done at the wrap party.)"


"The performing arts program at Sanford has played an invaluable part in my children's development and has given them:

An outlet for creative expression
Confidence and pride in themselves and their accomplishments with their classmates
Opportunities to forge new friendships (particularly with older kids at different grade levels)
A sense of belonging
New abilities [and confidence] to speak and perform in front of a crowd, which has expanded their leadership and communication skills."

Do I belong? Is this an inclusive school community?
The performing arts bring the whole community together. Family members and friends enjoy exceptional performances while students shine as they share the hard work they've dedicated in rehearsals. Sanford parents reflect on the value these events provide to their children:
"My daughter was new to Sanford her freshman year, so getting involved with Sanford's theatre program gave her the opportunity to jump right into Sanford's incredibly welcoming and accepting community. In addition, SRTC provided an avenue for her to grow her leadership skills throughout her Sanford career."

"EVERY CONCERT IS AMAZING!! It's always amazing how at such a young age, they can put on such an amazing performance. Kudos to our incredible performing arts department for developing the students and designing amazing programs!"
Concerts, plays, parades, musicals, and outreach events enrich our school by bringing all ages together and celebrating diverse cultural and family backgrounds. Attending a performing arts event is a great way to experience the program and its impact on the community. You'll feel the school spirit first-hand.