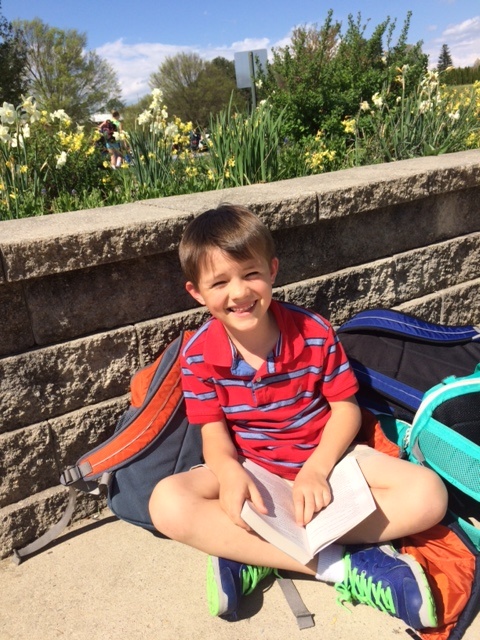 Earlier this week, I had one of my weekly conversations with my sister. She has two teenage daughters and a younger son named William. Her girls have always been eager readers, impressing me with the conversations around the novels they have read. As she and I were talking, she mentioned that William was sitting right next to her reading a book.

"So," I asked, "What is he reading?"

"Well," she paused and answered, "all William reads is non-fiction about world history. I'm sort of alright with it, but shouldn't he be reading fiction too? He is missing out on so many wonderful stories."

I answered, "He's interested in world history, that's wonderful! Let him read whatever he wants. "
Find something that your child is interested in
Sometimes there seems to be a whole lot of "shoulds" around reading. In my mind, children should not feel they need to read any particular genre. If children are interested, engaged and eager to read something, let them read just that. What many experts recommend is wide reading. We want our children to learn about the world, and we want them to encounter text that will help them expand their vocabulary. The best way to do this is to find the types of books that our children want to read. And, it doesn't matter what it is.
Local libraries cover a wonderful range of topics and present these topics in formats ranging from picture books, chapter books, nonfiction informative books and graphic novels. Did you know that there are graphic novels about everything from photosynthesis to Louis Armstrong? And, did you know that there are books on everything from the Mount Vesuvius eruption in 79AD to Marcus Persson's creation of Minecraft? Interest is such a strong force in engaging readers. As you move from summer camp, to the beach, to cooking, to gardening, engage your children in readings that might spark the interest you've seen in them during a summer activity.
Make reading a shared experience with audiobooks
Another way to spark excitement summer reading is through audiobooks. During the summer, many families spend hours traveling from one destination to another. Listening to audiobooks during this time makes time pass more quickly. Listening to stories can also expose your child to new ideas and rich vocabulary. Another advantage of audiobooks is that children can listen to and understand books that might be too hard for them to read independently. This benefits younger readers, reluctant readers and children with reading difficulties. If the topic or story is interesting to your children, the chances are high that they will listen intently, and in turn, might be excited about reading books that are similar to the ones they have all heard read-out-loud.